22BET Free Spins Bonus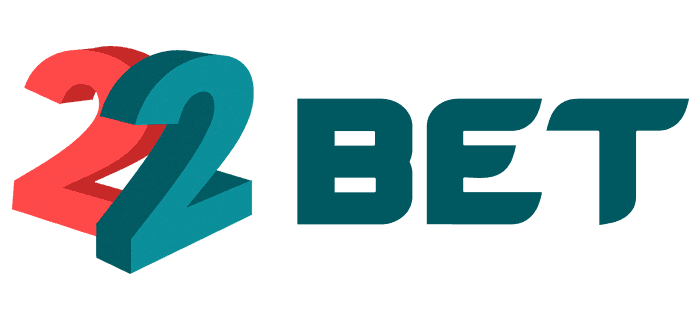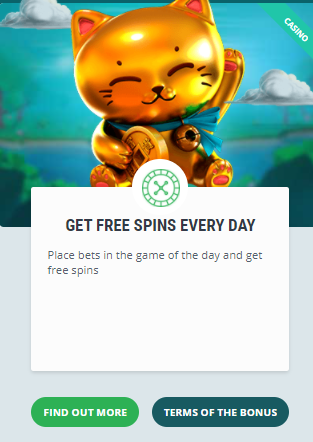 22BET is among the online casinos which don't only offer an excellent service and wide choice of sports games to their customers, but also amazing bonuses and promotions. Once you see their first deposit bonus offer of 100% up to 300 EUR, you will probably be sure that it's worth trying and register on this website but their excellent welcome bonus doesn't consist only of the first deposit bonus. Every single player has an option to be provided with 25 free spins daily and for this, all you have to do is to place bets totaling 70 EUR on the game of the day.
In case claiming this amazing 22BET free spins bonus has already attracted your attention, we will try to give you detailed information about the games you should choose on different days of the week, show you how to participate in this offer, and tell you everything you need to know for claiming the opportunity. There is no wagering requirement. Just choose the right game for a certain day of the week and enjoy playing with your free spins daily!
Also, if you want to get more details about the features and services of this amazing online casino, you can check your detailed review about their game library, customer service, safety and security policies, and everything you need to know to gamble online on 22BET.
Terms & Conditions of 22BET free spins bonus
From the day of registering on 22BET, you have a wide range of options to score loads of free spins and spend them on different high-quality games. There are certain types of requirements and conditions that you need to be aware of, so read their terms, follow the instructions and place your bets on the selected games to claim your desired free spins and enjoy completing tasks in the game of the day. So, what are the conditions to get free spins every day?
Getting started
You will probably receive free spins every day if you follow our recommendations. The first thing you need to do is to become a member of the 22BET online casino. The process is quite easy. Just click on the green "register" button, fill in your personal information and you will be immediately given the chance to complete the task in the game of the day. After that, you will be allowed to get free spins on 22BET and try as many games as you desire with your free spins and you don't need to fulfill wagering requirements once you completed the rules for activation.
The website has a competition of Game of the Day and you will be offered different kinds of free spins every day. You can place bets on different games but note you must bet using the real money to be taken into consideration and each gift has its own validity period. Also, the offer is available only for the members with a complete profile and verified account, meaning that you should confirm your email address and phone number first before you start betting online. Also, you have to pay attention to the general Terms and Conditions of the website and keep in mind that you have the chance to get only one bonus at a time.
Now, let's take a look at the games and offers of each day of the week to get 22BET spins for free.
Monday
On Monday, the Game of the Day is Viking Gods: Thor and Loki. You should take part in this game from 03:00 to 07:00 GMT to grab your 24 free spins and for activating your gift, place bets in the game totaling €70.
Tuesday
On Tuesday, you should play Wild Warriors from 06:00 to 10:00 GMT and this time the number of free spins is more than the previous day. Specifically, on Tuesday you have an opportunity to get 30 free spins and collect €200 in winnings to claim the gift.
Wednesday
On Wednesday, Wild Burning Winds: 5 lines is the Game of the Day, and the time determined for claiming your free spins is from 09:00 to 13:00 GMT. On this day you can activate 40 free spins in total and play 400 spins to get your gift.
Thursday
On Thursday players should participate in Buffalo Power: Hold and Win from  12:00 to 16:00 GMT to grab 22BEt free spins. This time, you can get 40 FS which will become available if you reach total stakes in this game of €150 or more.
Friday
On Friday, the game of the day is Poisoned Apple. Players usually take part in this amazing game from 12:00 to 16:00 GMT  and collect 40 FS if they win a total amount of €300 or more.
Saturday
22BET provides free spins on weekend as well! Every Saturday you can play Phoenix Fire: 10 Lines from 16:00 to 20:00 GMT and get 50 FS. For activating your gift, it's necessary to play 400 spins in this game.
Sunday
And finally, the game of Sunday is Joker Expand: 5 Lines which should be played from 10:00 to 21:00 GMT to be rewarded with 75 free spins. As soon as your total winnings reach €600 on Sunday, you will be provided with your gift.
That's all you need to do to get a 22BET weekly spins bonus. So, if you follow the terms of this website, you will have the opportunity to gain the maximum amount of free spins and spend them on your favorite excellent-quality games.
Should you get the 22BET casino bonus?
For everybody who enjoys the diversity of online casino games, 22BET free spins bonus is an excellent choice! If you are eager to try out different games, most of which are provided by the authoritative game software providers, you should definitely take this chance and play the games according to the recommendations above. This is indeed a great daily promotion that will allow you to try various options and make your online gambling experience unforgettable. So, play free spins every day and enjoy your bonus!