Online Casinos in Singapore – Socializing via gambling platforms
Singapore is very diverse and full of different cultures and nationalities, including  Chinese, Malays, and Indian people who all are very involved in the gambling industry. Especially in Online gambling. The best online casino sites in Singapore might be very few in number, but they are surely attracting people.
Recommended Online Casinos in Singapore
The history of gambling in Singapore
In the 19th century, Singapore people were addicted to gambling big time. Sir Stamford Raffles (the governor at the time) did not like this too much and he tried to ban gambling. William Farquhar, the governor after Raffles thought otherwise. He believed that gambling was a huge opportunity for the city. So in 1822, he introduced licenses for gambling companies and game tables. But soon after, he was replaced by Raffles again. Anything remotely resembling a gambling parlor was closed down with no questions asked. 1827 was the year when gambling and everything associated with it was officially banned in Singapore. However, there still were underground illegal gambling bars and pubs that were not that hard to find. That was one reason why gambling never really left the city and why the modern Singapore online gambling market is still booming.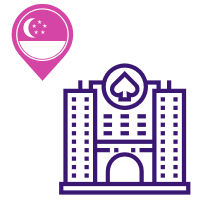 In 1842, the first Singaporean sporting club was founded by a Scottish businessman. Only a year after opening, the first-ever horse race was held in the city. After almost one century, this club changed its name to the Singapore Turf Club. They did it to reflect on current racing activities at the time. In 1960, only a few members of the public were allowed to attend races as the club was relatively private.
Gambling continued in Singapore even during Japanese rule. A new lottery was introduced for just $1 per ticket. It all changed in 1999 though, when the local government outlawed everything besides horse-racing, jackpot machines, and a few gambling private clubs in the city. Even today, if a person wants to play casino games for real money in Singapore, they have to go through quite the pickle to find something that is legal.  But no matter how we twist and turn it, Singapore has a culture of gambling, and its increasingly international population is going to make it hard for the government to continue enforcing these laws. Sooner or later, gambling will once again be fully legalized in the city.
Popular Singapore online casinos
The most popular casinos in Singapore nowadays always have some sort of mobile application or a web platform to provide to their players. However, this new trend quickly rose questions about responsible gambling in the city. Fortunately, Singapore's online casinos as well as the players themselves were responsible enough to know the limitations. In general, nothing overwhelmingly serious has happened so far.
Another feature that popular online casinos in the city have is a social gambling platform. What this means is that you're not the only one looking at the screen or playing a particular game. Many casinos allow people to chat with each other if the game is being played on a website or have them sit closely together if it's in a brick-and-mortar casino. This love for socialization is the core of Singapore as a whole. Due to its multicultural state, people there are always interacting and learning something new. Luckily Singapore online casinos have adapted to this and used it to their and their customers' advantage by providing these social gambling opportunities.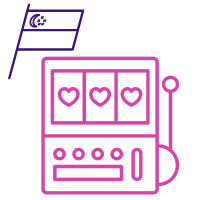 Gambling in Singapore is mostly popular among older people. People in their fifties are more likely to be gamblers than younger people in the city-state. Only 2.2% of gamblers have problematic behavior such as addiction or bad risk management. But this doesn't stop casinos from having measures in place. If you ever sign up on a casino site in the city, expect them to give you warnings every few hours or send you pop-ups when you're betting too much. It's a mechanism designed to protect the gamblers from themselves basically.
Even though gambling laws are quite strict in the city, the best casino sites to play on in Singapore will still enforce them to the T without complaining even once. There is absolutely no room for error for these companies and they will expect you to respect their rules and guidelines. Even a slight violation during both an online and offline visit could lead to you being blacklisted and banned.
The only place where locals can gamble in peace without worrying about a law they may break is a Toto parlor. Toto is basically Singapore's version of a lottery and is usually done on-site. But some web versions have been coming out and implemented into popular online casinos in the city.
Now here's a big one. The absolute most popular casino sites you can find in Singapore will definitely feature some sports betting opportunities. It's just a given that the locals pay way too much attention to sports, and any casino that would not exploit that love for personal gain would be pretty silly to do so. In most cases though, expect to have a limited choice in the sports you can bet on. Usually, it's just horse racing.
How gambling works in Singapore
It's pretty hard to navigate around the regulation surrounding gambling in Singapore due to how many times it has been changed. Even when searching online for information it's not guaranteed that you'll get information on the latest regulation update in the city. Because of this uncertainty and vague information, let's try and simplify the gambling legislation in Singapore and finally determine what is legal and what is not.
Currently, land-based and online gambling is regulated and overseen by multiple bodies. The Casino Regulatory Authority regulates plain old casino gambling. A special unit of the Ministry of Home Affairs controls and regulates remote gambling and fruit machines in the city-state. Because of this diversity of government bodies, most cases of illegal gambling in Singapore are always put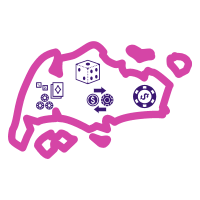 on hold so that authorities can determine which body is responsible for it. However, Singapore is often a primary destination for conferences and innovation think-labs. Due to this landscape, the local regulators may learn more from their international colleagues and reform the current legislation.
In 2021, The ministry will ensure that the regulatory mechanisms can help the whole gambling industry to develop and transform the processes through a new system in a better way.
To make a long story short, Singapore has already decided to ease its restrictions on gambling. The fact that online casinos are growing in the country is just a reason for that. With changes in technology and with the introduction of the remote gambling act, most of the online casino slots in Singapore are experiencing rapid growth in customer numbers without necessarily knowing if these people are locals.
But no matter how much the regulations will be lifted, it's likely that bans on international casino sites will remain in place. This is a serious issue for locals as there's never a guarantee that a website is locally operated. Gambling on such a platform could lead up to a $5,000 fine or even imprisonment. The owners of these sites however face fines up to $200,000 and prison time of up to 5 years.
The current legal gambling age in Singapore is 21. Naturally, this law applied to both land-based and online casinos. However, online casinos are finding it much harder to identify when a client is underage.
Let's take a look at the full gambling timeline to see how gambling works in Singapore currently and how it may work in the future.
1800's – Singapore had home gambling farms for cockfighting was held. It was made illegal in 1856.
1842 – The Singapore Turf Club is founded. Even today, it is the only local operator that is allowed to hold horse racing events and take some horse racing bets.
1923-1926 – Gambling becomes legal for the first time.
2000 – The Kanji Racecourse opens.
2005 – First talks after the 1999 ban to revitalize the gambling regulation.
2006 –  Casino control act is launched. It was created to help people with gambling addiction. Even the best online casinos in Singapore were included in this.
2010 –  Marina Bay and Sentosa casinos open in the city.
As for online gambling, it's not the easiest to find legal casino sites currently. There are a few exceptions, but in most cases, people use VPNs to connect to offshore casinos and gamble that way.
Can foreigners play in Singapore online casinos?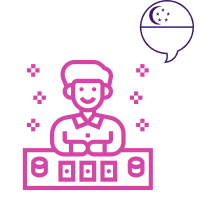 Foreigners are allowed to enter both local online casinos as well as offshore ones from the city. Due to this relatively lighter part of the Casino Control Act, many local casino sites completely focus on foreigners and tourists and immediately block any locals that try to apply. Therefore, as a foreigner, you technically have more freedom in the casino you choose there.
Online casinos in Singapore offer higher payout ratios than land-based ones. This is one of the main reasons why foreigners choose to go online rather than trek to a land-based venue and get less for their time. Considering Singapore's title as the Asian center of fintech, there are hundreds of payment methods as well, making deposits and withdrawals even easier for foreigners. There is almost no payment method that is not listed on a Singaporean online casino.
You can also expect several languages to be supported on these online casinos. Most of these sites know who their customer base is so you can get both written and spoken support in various different languages of your choice.
How we rate Singapore online casinos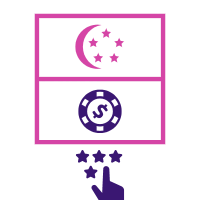 If you are looking for the best online casino in Singapore, you are in the right place. Our main goal is to provide our readers with the best options possible. When reviewing online casinos in Singapore, we leave no stone unturned. Here are the criteria we pay the most attention to when reviewing a casino.
Reputation – Online casinos should have customers who are satisfied with it. Since it is absolutely vital for casinos to have as much positive feedback as possible, seeing something negative being said about them is always alarming. Any technical difficulty, bad service case, or just plain old unfair treatment is a red flag in our books.
Safety and security – There is absolutely no excuse for having an unsafe and insecure website. Thousands of people trust casinos with their personal information and having some kind of issue with that in the past is a major issue.
Banking and payment methods – If a casino wants to call itself the best Singapore online casino, then it has to have as many payment methods as possible. Since most casinos try to cater to a large audience, they need to provide the tools to use their services as well.
Customer Support – There are always questions and issues. If the casino does not have the resources to quickly deal with these issues for the customers then it's not really worth the time to register on.
Compatibility – The casino must have mobile support. Many customers prefer to play on the go. If the casino isn't optimized for a mobile device, it's unlikely we will recommend it to our viewers.
Licensing – The license is the first thing we check when reviewing a casino in Singapore or anywhere else. If there is no license, then there's no point in continuing the review, they will immediately be marked as illegitimate or fraudulent. The more licenses the casino has the better.
FAQ on Online Casinos in Singapore