Scratch Cards – An extra way to win
There's been an interesting development in recent years in the online casino world, and that's the emergence of online casino scratch games. Just like you can buy down at the corner shop when you have a couple of coins spare, but this time, it's all online.
So what's the deal with them? What's the point? How do they work? And why should we be excited about them in the first place? In the same way that people enjoy playing all sorts of other online games, this gives you an extra way to win. So let's take a look at what you can get from online scratch cards.
Check scratch cards games at these casinos
What are online scratch-off games?
As the name suggests, these games are virtual ways of playing popular scratch cards that you can buy at the supermarket. Although they're not the most popular of games at online casinos, lottery scratch-off tickets have a couple of definite benefits over traditional lotteries or even over slot machines. Firstly, there are typically far fewer people playing these games than other games such as progressive jackpot slots, meaning that your competition is much smaller when you play scratch cards online.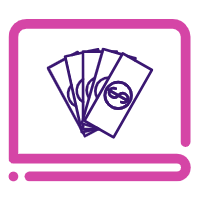 Secondly, there are only so many different cards that are available. That's not to say that they'll run out, but rather that the winning combination is definitely available online somewhere. You have access to the entire collection of lottery scratch cards, unlike in real life, where you are limited by the location of the cards. There's more chance to win, basically.
Surprisingly many companies produce online scratch-off games, including some of the biggest names in the online gaming world. One of the biggest and best-known producers is International Game Technology, or IGT, which has an agreement with another producer, NeoGames, to produce scratch cards for players and casinos around the online gaming world.
However, this isn't the only pairing to get in on the action. Bigger suppliers such as the Manx outfit Microgaming have also created their own range of lotto scratch cards. As you might expect from a name like Microgaming, it's a pretty big selection, with excellent games and themes, and huge wins for you to take home.
Another popular supplier of games is Sweden's very own NetEnt, who are better known for their popular Starburst slot and the Mega Fortune progressive jackpot series. Nevertheless, they have their own online scratch-offs that players have really come to enjoy. One of them, Triple Wins, is actually a progressive jackpot scratch card, which puts a new spin on things!
There are, however, a bunch of games that you can try out, and some of them can, in fact, result in pretty big wins. Here's a list of some of the more popular ones, but remember that this is by no means an exhaustive list.
Popular online lottery scratch offs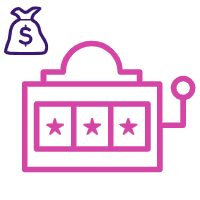 One game that has proven to be very popular with the punters is a scratchcard game called 3WOW! The name explains the game pretty well – match up 3 symbols, and you can win big, just like in a "real world" scratch game. This game is perhaps the one with the biggest win on offer, as players can win up to €1 million / SEK / NOK 10 million for their troubles. Some casinos offer players 3 free scratch cards when they sign up, which is an unusual but welcome change to the usual welcome bonus.
But that's not the only game in town. Like we said earlier, there's a range of games from the biggest online casino software developers in the world. NetEnt, Sweden's own supplier, has no fewer than 15 innovative games on offer, including the aforementioned Triple Wins progressive jackpot. There's something very appealing about these sorts of online scratch cards. Free money, or almost free money, and a chance to play as you did in the good old days while combining two of the best modes of gambling, is a dream come true.
Finally, if you're a fan of zombie films, you can play the bizarre yet utterly enthralling Dawn of the Bread, where, as the name suggests, zombies bake bread-based winnings just for you. Strange, yes, but the pun had to be made, and as far as lottery scratch-offs are concerned, it's a pretty interesting eccentric way to play!
Scratch cards at online casinos
Of course, the question then is where you can play these exciting additions to the online gambling selection. You will no doubt be pleased to know that that's not a big problem, though, as many casinos now offer casino scratch cards online. Here are some of the best of them, but if you have a particular casino that you've played at and which offers excellent games of all kinds, let us know and we'll add it to our list of casino scratch card sites.
Many people have taken to playing at casinos such as 32Red, a Microgaming casino that has a rather decent selection of games on offer. There's also Suomiarvat/Norskelodd/Svenskalotter, which, as the name suggests, are all about the casino wins. In fact, this innovative casino is where you can get your 3 3WOW! online lottery scratch cards worth up to € 1 million/ SEK / NOK 10 million. Finally, Thrills, one of the most popular new Scandinavian online casinos, also has a selection of popular scratch-based games that you can try out.
In fact, what we recommend you do is have a look at the list of casinos on our site, and when you find one that looks like it's right for you, check out the offers and games available. Usually, you'll find the online casino scratch card list under "Instant Games" or, more obviously, "Scratchcards," so it's relatively easy to find out what games are on offer. And then, with any luck, you can join the hallowed list of scratch card winners! Just ask some of the lucky players who've won big by scratching their cards at their favorite casino.
Biggest casino scratch card winners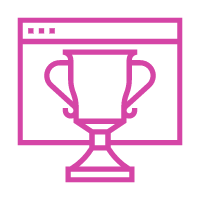 Just like in the real world, people do in fact win from these games. The 3WOW! grand jackpot has been won at least once, as far as our research shows, but there's still a bunch of other wins that you can claim.
Other games that we haven't had space to include in our list of scratch-off tickets online have also produced big wins with just the click of a mouse. Basically, you're in for a lot of fun when you find a casino that offers these sorts of games.
So if you want to indulge in a bit of nostalgia for the grand old days when you went down to the shop and spent your change on a scratch card, or if you just fancy trying out a new game, we reckon you should think about which of our games qualify as the best scratch cards, and then go out and try to win. Happy scratching, and happy winning!
FAQ on scratch cards