Online casinos in Norway – Is Gambling legal?
Norway is a country that is widely known not only because of its tourist sites, winter sports, and eco-friendly energy but also it has the name of the strictest country when it comes to gambling rules. Gambling in Norway is considered mostly illegal and is regulated by the two major gambling companies. In fact, Norsk Rikstoto and Norsk Tipping are the only ones who have permission from the government to offer games and activities. Apart from their service, every form of gambling is in Norway is illegal. The same applies to some domestic activities as organizing private parties at homes and what is more important, to online gambling in Norway which is also restricted.
Therefore, people usually believe that players here are limited only by a couple of Norway casino sites but the situation is a little bit different and for real, Norwegians have plenty of other options to satisfy their gambling needs. At a first glance, the service of the country's online casinos isn't convenient and the choice of the game isn't wide but it doesn't mean that Norwegians don't have access to some best online casinos outside the country. Even though the government has a monopoly over gaming activities, in Norway players can enjoy the best types of poker in the world over the last few years. The country is considered as the home of online poker which deserves widespread popularity not only from the Norwegians but also from the players across the whole world.
Best Norwegian Online Casinos List
Overview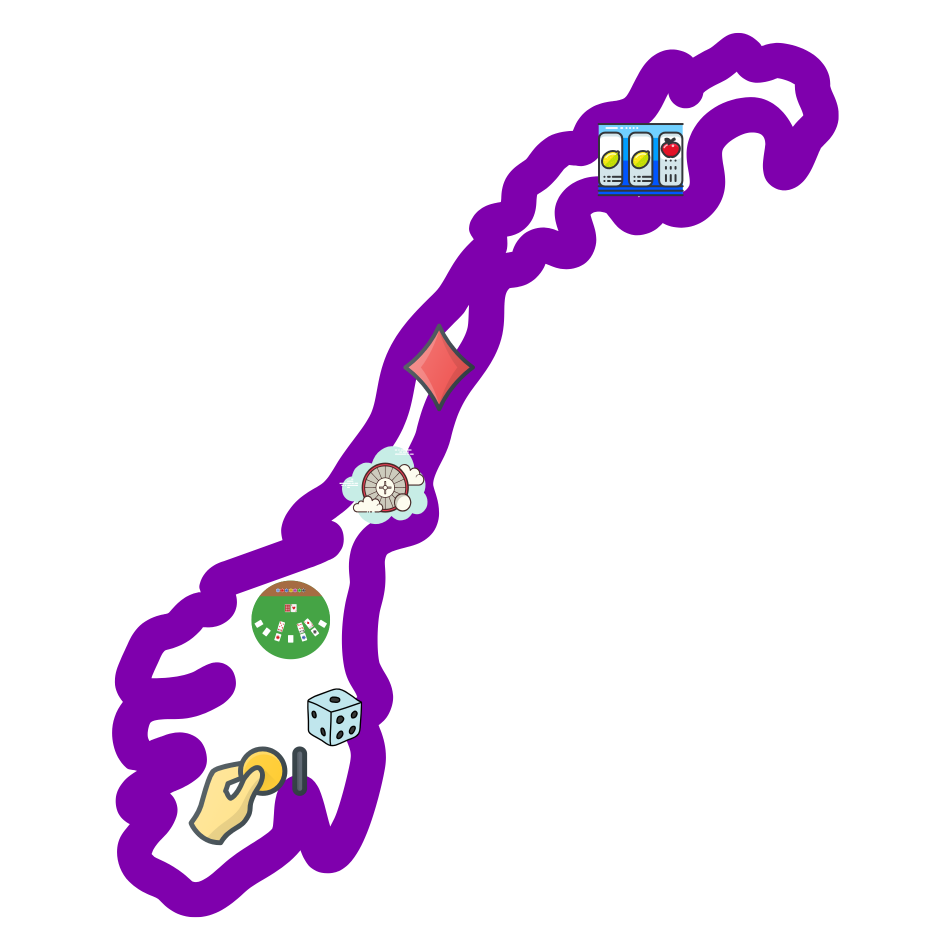 The gambling laws in Norway have undergone great changes throughout the times.  Norwegian online gambling market is regulated by three major gambling acts: the 1927 Totalisator Act, the 1992 Gaming Act, and the 1995 Lottery Act. They provide certain rules about different forms of games in the country and establish a state monopoly for racing and betting activities, sporting events, and other competitions, as well as the lottery. However, it turned out for the government that this kind of divided law wasn't really effective after all, and they plan to develop a unified gambling act including all three types of gambling acts.
However, increasing government regulations don't prevent players enjoy various gambling activities. Although physical gambling can be more problematic, as there are only two regulators and the choice of physical gaming activities are not so diverse, slot machines, state lotteries, bingo, or horse betting is pretty popular. The quality of these activities is excellent which is why Norwegian gamblers don't usually feel that they have restricted access to take part in the gambling industry. But also, despite the government's harsh rules, the situation in the online market is not so bad as well and locals can still play casino games for real money in Norway. You just have to pick the right online casino to play safe and get your deserved winnings.
Today the government tries to reduce the number of offshore gambling sites that are accessible for Norwegian players, but as it seems the situation is not going to change any soon and players will still have the opportunity to enjoy their desired games using foreign websites which are not yet restricted by the law. For this, we try to provide you with so detailed information about the gambling system in Norway as possible, and at the end of this review, we will give you insights about choosing the most effective and suitable online casino in the country. So, it means that the gambling atmosphere in Norway is not that bad and even more, the country has the third-highest gambling rate in Europe and the industry is growing more and more.
Popular Norwegian online casinos
There are plenty of online casinos in Norway which are highly reputable to the players because of their amazing services and excellent quality games. Therefore, people in Norway usually prefer to register on local casinos instead of international brands from more trustworthy locations like Malta or the UK. Top online casinos there, in general, have fair bonus systems, quick payouts, and fully licensed websites with a wide range of best casino games. All this means that if you choose correctly, you will be provided with an awesome experience while playing online.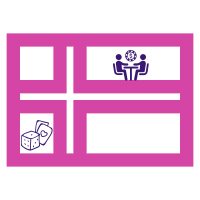 Locals usually prefer to be surrounded by the Norwegian spirit which means they want to take part in various sports games, digital versions of the old crown machines, or the all-time favorite "the Joker 6000" which is so popular in the country that in fact, every single player can recognize the game. However, Norwegians need to be careful to play safe and they have certain strategies for working out whether a local casino is good enough. To reveal the best casino sites to play on in Norway you should avoid random websites that accept real money and waive official laws.
It's better for your own safety to play by the rules offered by the above-mentioned two gambling regulators. But while choosing a website that can rely on standard casinos which are popular among Norwegians as they are easily accessible from laptop computers. Such kind of casinos usually features online casino games like slots, poker, and roulette among which poker is especially popular in Norway. The introduction of mobile poker in the country increased the popularity of poker games in Norway and has become a significantly important way to access various types of poker games. These games can be played on any mobile device that is compatible with Java.
Besides, most of the players in the world enjoy live casinos and people in Norway are no exception. However, options for live casinos online in Norway aren't quite diverse. But the ones that are available provide an atmosphere of a real live session that allows players to communicate with other players and have an amazing experience.  Also, for choosing a good option of online sites for gambling in Norway, you should pay attention to compatibility with mobile devices.
While gambling online, you will have many options of different Norwegian mobile casinos which is important for players who are more technology-friendly. There are plenty of sites that help you take part in the best gambling activities on the go. In general, their service is so diverse and whether you are a user of IOS or Android systems, you can enjoy mobile casinos as they work well on both kinds of phones and tablets. But these are just rules about making general decisions while playing games on the internet. Now let's discuss more specific aspects.
How gambling works in Norway
Over the past century, most of the forms of gambling have been considered out of law in Norway but now the situation slightly changed. Many gambling companies moved out of the country and continue their business from other countries. That's really important to provide service to their customers without fear of breaking the law.
Today Norway has about 1200 venues that offer 2750 Multix Individual Video Terminal machines. The games available on these machines are quite diverse. They include different types of lottery, Joker, Keno, Extra, scratch, bingo, slots, etc. Also, traditional games like Roulette, Baccarat, and BlackJack, as well as, poker and video poker are very popular.
Using the Multix and Belago machines are strictly regulated in Norway. For instance, if you want to play on a slot mac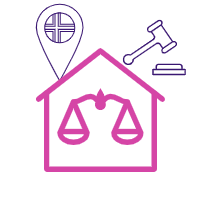 hine you must be over 18, have a player account and ID card, as cash is not accepted. However, online casino slots in Norway are more accessible. The difference is that while playing slots online, you are not restricted to deposit any more than NOK 400 per day and NOK 2200 per month. But when using actual slot machines all sales and pay-out transactions are stored in the Norsk Tipping data warehouse.
This data includes how many tickets the player purchased, which game was played, how much was paid, and many other details. It means that the possibilities of diversity are much higher while gambling online in Norway.
Other than this there are 12 horse racing venues in the country, which are administered by the second regulator company Norsk Rikstoto. Among these venues, the majority are harness racing types but there's just one venue in Oslo called Ovrevoll Galoppbane which allows players to gallop rather than trot. As you can see the two regulators in the country have different functions. Specifically, Norsk Riskoto takes part in regulating horse racing. And the second Norway gambling regulator is Norsk Tipping which's for lotteries, sports betting, poker, keno, and other card games.
Things resembling exceptions
One of the most popular activities among the players of Norway is poker. Until 2015, poker was considered illegal but from this time the regulators lifted the law on low stakes of playing specific poker games. This means that now you have an opportunity to play poker from your home while you are in Norway. But still, there are certain restrictions. In particular, to play poker from home the group of people must be from the same region of the country, the maximum amount of players must not exceed 10, and money from each person should be no more than NOK 1000. As a matter of fact, Norway has many professional poker players which have been successfully playing over the years. But because of the existing restrictions, fortunately, the online casino industry in Norway offers plenty of amazing poker games.
In fact, the best paying online casinos in Norway offer Norwegians the opportunity to play for real money against players from around the world. Several years ago, all that Norwegians could do was to play with poker teams in the land-based casinos but in the 90s the situation changed, the online poker was introduced. Now they have simple access to online poker using the different platforms and more than 30 websites provide them with high-quality poker games across the country.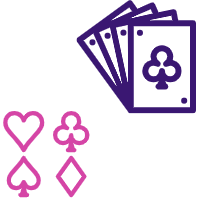 However, online poker hasn't always been legal these days because gambling laws in Norway are frequently revised. Therefore, not long ago, in 2013 the gambling law changed and the government banned online poker activities. But technically online poker is not restricted because as long as a Norwegian player uses a licensed poker platform, they have the right to enjoy the game. But foreign websites in Norway today are banned from providing online poker for locals. Therefore, you can enjoy playing poker on Norway online casinos as long as the site offering the games is licensed by Norsk Tipping.
Norwegians don't stop at Poker
Other than poker, some other gambling activities are especially popular in Norway, including sports betting. Sport and especially, soccer is a big part of Norwegian everyday life and culture. The gambling situation in sports is no different than in other regions of the world. This means that you are allowed to bet traditionally in person if you go to the place where the match is held. But also you can bet at kiosks with the help of a bookmaker or you can bet online. The most popular sports betting activity in Norway is called Tipping which means Betting in English. The game was first introduced in 1948 and obviously, it's regulated by Norsk Tipping.
In the early 2000s playing with slots has been a popular activity in Norway but now traditional ways of doing this are not really common due to the lack of slot machines in the country. Therefore, Norwegian casino slots have been banned by the government in 2007. They tried to replace slots with IVT's in 2009 but it didn't turn out to be very successful. However, as a result the demand for online gaming and betting greatly increased.
Norwegian gambling regulation compared to EU
Gambling regulations in Norway are slightly different from other European countries. The main reason for this is that Norway isn't a member of the EU and is not subject to the same pressure as its member countries. For example, the regulations of Norway's neighbor countries, Finland and Sweden aren't that strict and the government doesn't have the monopoly. But in Norway, there are only two legal betting sites and limited options of services for gamblers. However, people in Norway can register on offshore companies as well and play using gaming sites of different countries. In fact, hundreds of sites worldwide accept Norwegian players, and some of them even process transactions in Norwegian national currency Krone.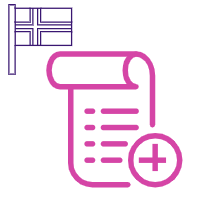 Over the past century, most gambling activities were considered illegal but the current legal situation regarding online gambling in Norway is satisfactory for players. The local online and offline casinos are regulated by the three major gambling acts. 1992 Gaming Scheme Act is the main rule which applies to sports events and other competitions in Norway. This act gave Norsk Tipping the monopoly control over lottery and sports betting in the country.
But later they also won the right to manage online poker websites for Norwegian people. Three years later, in 1995 the Norwegian Lottery Act was introduced which provided a detailed definition of all forms of lotteries and other games as well. The Norwegian Lottery Act which was issued three years later is considered more exhaustive because it provided a detailed definition of all forms of lotteries and other games.
These three acts together create Norwegian gambling legislation which prohibits operators to distribute any form of gambling without a license from the Gaming Authority, which is a regulator of online gambling in Norway. These rules apply to both land-based and online casinos and violation of these acts imposes sanctions like administrative orders or fines.
Responsible gambling in Norway
Based on the recent survey, Norsk Tipping officially said that responsible gambling is considered as one of the current challenges of the iGaming industry in Norway. A large part of the population has an increasing tendency of developing gambling problems. They believe that the main reason for such high rates is increased advertising and its influence on the wide society. Also, now games are more easily accessible for people as using the internet has become much easier than before. This is why Norway may face serious gambling-related issues.
To eliminate this problem, Norsk Tipping and Norsk Rikstoto change their strategies over time. In order to help the locals play safer, they try hard to control offshore gambling sites. For example, despite the government's demands to make the rules stricter about Norwegian casino slots, the regulators know that people will try new ways and use offshore methods to get access to their desired activities, which will be dangerous for them. As a result, they want to make using slot machines legal again.
Today both regulators are trying hard to make the gambling atmosphere more secure and protect the rights of their citizens. As a result, they plan to implement changes in Gambling Legislation. Particularly, they decided that it's time to unify the country's Lottery Act, Gambling Act, and the Totalisator Act. The author of this initiative is the Minister of Culture of Norway who believes that divided law causes a lot of confusion and poses a great threat for responsible gambling. The regulators agreed to make the change as they will still maintain monopolies in the market. However, from the time the acts are unified, non-profit organizations will no longer be allowed to offer gambling games with low turnover small prizes.
How we rate Norwegian online casinos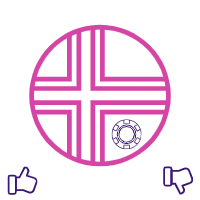 Considering the fact that today the number of online casinos rapidly rises, choosing the one with the best games and the most reliable services have become a difficult task. This is why we try to choose wisely and take a look at several different factors when it comes to rating online casinos in Norway. Therefore, we use certain criteria to determine the advantages and disadvantages of an online site, compare different ones with each other, and choose the best one among them. After that, we decide to recommend a website to our users or not.
The first thing that needs to be estimated is safety which is why we check whether the websites are licensed to protect our users' personal data and avoid money losses. But it's not only about security. It's important to check the game library and software providers to ensure that the website is trustworthy.
Best online casino sites in Norway usually have a wide range of various high-quality games that are provided by authoritative software providers. Besides, on this site, you will only find Norwegian casinos with excellent bonuses and promotions. This means that they have the best no deposit, free spins, and reload bonuses and provide daily, weekly and monthly promotions or VIP services for both new and loyal users. Another important thing is having excellent customer support that's available 24/7 to help you and answer your questions whenever you need it. Besides, on the best Norwegian websites, you will have an opportunity to easily get your money in and out of an online casino as you are provided with quick payment procedures and convenient deposit and withdrawal strategies.
Bottom Line
After reviewing the gambling situation in Norway, now you probably have a general view of how gambling works in this country so it's up to you to find the best online casino in Norway nowadays. Although there are not so many opportunities because of the state monopoly, you still have chances to find something appealing for you. However, keep in mind that the situation may change every day as the regulators are working on making the overall gambling atmosphere in Norway better and more convenient for players.
FAQ on online gambling in Norway