Poker – Mixture of skill and luck
The defining card game of our generation is, in fact, a series of different card games, all of which share a common method of scoring. Once associated with Wild West outlaws, saloons, and, shall we say, less-than-salubrious characters who'd kill you as soon as look at you, poker has become a game for everyone, played for matchsticks at home, or for millions in online poker tournaments. While perhaps the most iconic version of the game is the standard 5-card draw game, it's unsurprisingly not the most popular, or most complicated. So, looking for new games and ways to have fun, players have risen to the challenge, with a bewildering array of games on offer.
With so many different forms of the game, in fact, it's difficult to really say which the most popular game is. The slump in online casino poker after the US government's clampdown on internet casinos has not dampened the enthusiasm that millions around the world have for this family of card games. So let's take a look at some of the background information you need to help you decide which poker games to play when you get the urge to win.
Play Poker on These Casinos
Online poker odds
Poker is a mixture of skill and luck, but it also helps if you understand how likely you are to win with any given hand. This can help you decide on possible bets to make, whether you should call, fold, or raise the bet, or even how like it is that the king of hearts you so desperately need will make an appearance.
In the middle of a casino poker game, though, it's a bit difficult to start working out the odds of how likely you are to win that particular hand. That's where we come in, happily! The good thing about poker is that you're playing against other players, not the house. The bad thing, of course, is that you're playing against other players, who may or may not know as much as you do. It's a bit of a mixed bag, really.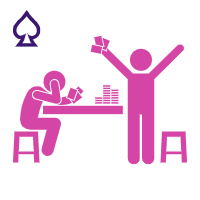 The odds do change depending on the number of cards dealt at your particular casino poker table, which depends on the game. Typically, if you're playing a 5-card hand, you've got a 1-in-2 chance of drawing a "no pair" or "high-card" hand. One pair is slightly less likely, at 42.3%. Needless to say, this is the most common winning hand, but it doesn't win very often. There are 2,598,960 unique hands in 5-card poker, so there's plenty of opportunities to work out just how the rules work with each free poker practice session. And that's only one form of the game.
In 7-card hands, the odds change quite a bit. The higher hands (flushes, straights, and full houses, amongst others) don't have massively higher odds than they would in a 5-card hand. However, in a 7-card draw, your odds of getting both a pair and two pairs are significantly higher than getting no pair at all. There's only a 17.4% chance of getting nothing, but a 43.8% and 23.5% chance of getting a pair or two pairs respectively. Even 3 of a kind have a 4.83% chance of showing up. This, of course, is because of the larger hand, but also because you only use 5 out of 7 cards in your hand, including the community cards.
To help you out, most of the top poker sites will also post the odds somewhere on their pages. If you need a quick reference while playing online, just check out the odds while you're playing, or keep them up on the page next to you, and you'll be able to work out whether to raise or fold quickly and easily. Playing casino poker games online, and winning, is now easier than ever.
Where to play casino poker?
Since the great debacle of the Black Friday restrictions in the US, where some of the world's best poker sites were unceremoniously barred from catering to American players, online poker has retreated a bit from its heyday of the early 2000s. Nevertheless, it hasn't died out, and European players have been on the up and up in recent years. Many of the world's top gamblers come from the Scandinavian region, and if you look at online poker rankings, you'll see many non-English names there.
To cater to this new source of demand, many casinos offer dedicated poker rooms, as well as player resources such as odds charts and the chance to play free online poker games for practice. If you're not quite ready to play against other human players, you can always try out a game or two of video poker, although be aware that the odds are not always as good, and your game choices may be limited – but this is not so much the case as it used to be. Playing poker online is as easy as finding a casino, registering your account, and clicking on a link.
Best online poker sites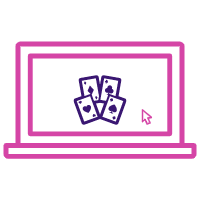 Whether you're hoping for some beginner's luck, or you think of yourself as a card shark, you can find somewhere to play online poker for real money. Many of the casinos we showcase here on our site offer many forms of poker, and you can often play against both computers and humans. It's just a case of your preference, so check out the range of games that are on offer for you.
Of course, in addition to poker, casino sites also offer a range of other popular casino games, such as baccarat, roulette, and slots, so if you fancy a change, there's no need to go hunting down another site to play at. In fact, we'd even go so far as to say that many of the best online casinos also offer the best online poker sites, so you don't need to go too far to find out where you should be playing.
Free poker practice sites
So if you think that you'd like to get a piece of the action and start playing one of the most popular games of all time, you can head straight over to one of our real money poker sites. But, if you still want to get a bit of practice in before you place your bets, there are a couple of places where you can try out your luck and see if poker is all it's cracked up to be.
Many of the casinos that offer video poker will let you play a game or two for free. Unfortunately, this is not usually the case with live dealer poker, but who knows, something new might make an appearance in the next little while.
However, we would suggest that, regardless of whether you want to play video poker, live dealer games, or in an online room, the time is right to start playing for big hands. Texas hold 'em, Omaha, Razz, stud pokers – the variations seem to be endless. The fun certainly doesn't stop, so try out your luck today!
FAQ on a Casino Poker game