Video Poker – Playing with machine
Perhaps the purest mixture between slots and the much-loved game that comes in variants such as Texas Hold'em, video poker is one of the best ways to keep yourself entertained whether online or in a brick and mortar casino. But if you do choose to play video poker online, we've got a couple of tips and tricks for you to use.
The best thing about this great game is that there are so many different combinations, so whatever your preferred form of cards, you can play a great selection of different hands from an array of online video poker games. What you choose to play is, of course, up to you. So let's have a look at what sort of games you can reasonably expect when you're playing at an online casino.
Test your video poker skills here
How to play video poker online
As we said above, video poker is sort of a combination between a slot machine and a real poker game. It's played against the computer, as it were, with a random number generator, or RNG, ensuring that the hand you get is fair. This is the same mechanism that guarantees your spins on a slot machine are also random and fair, so you can play safely with a guarantee that your gameplay will result in some sort of a payout for you.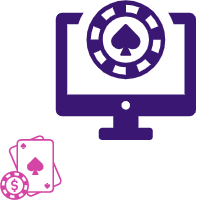 The particular variation of poker that you choose to play is entirely up to you, though. Learning how to play video poker is pretty much the same as learning regular poker, but the only difference is that your opponent isn't a person, but a machine. This is good if you can't get to your regular poker game, meaning that you don't have to miss out on all the gambling fun.
What usually happens is that, if you're playing a traditional five-card draw game, you'll select the cards you're going to hold (or discard) on the screen, and you'll be dealt another card or two. You can also sometimes raise bets, see bets, and do almost everything you can usually do when you are involved in an online video poker game. Again, the choice or possibilities are entirely yours.
Basic video poker rules
There are plenty of rules surrounding video poker, but most of them are relatively straightforward. Depending on the type of poker you're playing, whether it's deuces wild or a 5-card stud, you'll be following the usual rules of the game, with the small difference that you're playing on the computer.
The bet you place determines the payout you'll get at the end of your video poker casino game, or rather the hand you're dealt. Of course, the better the hand, the bigger the payout, and the rate of the payout will be explained to you at the very beginning of the game, or in the rules of the game as included in the game environment. Otherwise, there's a huge range of options, depending on your preferred "poison," so read the descriptions of the games themselves for more info.
So when determining basic video poker rules, you have to look at the particular game that you are choosing to play. In fact, the only rule that you are really obliged to follow, apart from the particular rules of the game itself, is to make sure that you don't try and cheat the game. Not many software developers like to have their products messed with, and there have been cases where casinos have prosecuted people for jailbreaking the software on their video poker products. But if you play video poker free, there's no chance of getting nicked by the authorities, so don't worry!
But the next question that needs to be answered is how to turn the game to your benefit. There are a couple of different options and strategies to help you win, especially after you start playing for real money, so let's have a look at one or two of them.
Online video poker strategy and tips
The main things to focus on when playing video poker are the same things as when you're playing regular poker. The payout system is different, of course, and this will be included with the rules for the game.
Depending on the software provider who created your particular blend of casino video poker online, you might have to take a different tack. Have a look at who made the particular game. All the major software providers, including Microgaming, Net Entertainment, and Playtech, have a range of video pokers on their shelves, meaning that you have a range of different options when you're devising your online video poker strategy.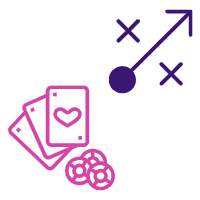 The main thing to remember, though, is that you're usually not bluffing against an opponent. Rather, you're just trying to get the best possible hand that can win you some big payouts. Use the cards to your advantage, and don't go crazy with your bets, as that will be a sure-fire way to limit your gaming time, giving you less fun than before. The best video poker strategy, in other words, is to play sensibly.
Nevertheless, there are a couple of options that you can employ to better your chances of winning. Some of them will be illegal, though, so be careful. One way to better your chances of winning is to try out some free games, which are often available at casinos. So amongst our online video poker tips, this is probably the best one!
Free video poker online
As we've said, if you've found an online casino that offers you a number (or an unlimited number) of free games to try your hand at video poker, you're in the right place. Before getting yourself into anything unexpected, try and win a few hands of free video poker online. This will help you work out a winning strategy so that when you make a deposit, you can start pulling in the cash quickly and without any problems at all.
So that's the main reason to play casino video poker. Live poker might be the classic version, but there's no reason for you not to enjoy a few hands of video poker once in a while!
FAQ on Video poker