Roulette – The most iconic casino game
Perhaps the most iconic casino game of all time because of its icon, the roulette wheel, the game that means "little wheel" in French is also known as the devil's game, as the numbers on the wheel equal 666, the number of the beast.
But if you're playing a free roulette game online, or making a high-stakes spin in Monte Carlo, the result is the same. Going from 1-36, and alternating between red and black, with the green 0 (and 00 or double 0 in the American version), roulette is perhaps single-handedly responsible for many of our preconceptions about high-stakes gambling. But this doesn't really answer the question of how to play roulette online, or indeed in a real brick-and-mortar casino. So let's take a closer look.
Try roulette at the best casinos now!
How to play online roulette
There's not really that much difference between the two versions of the game, online and live roulette. And indeed, the rules for both European and American roulette are almost identical, with the only major difference being the addition of the double 00 and the subsequent change in the odds for the casino roulette.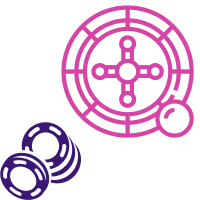 The rules are basically the same. You place your bet (and you can bet on almost anything – red or black, odds or evens, groups of numbers, particular numbers, or even the dreaded 0) and then spin the wheel. Before you start placing real money bets, though, it's probably wise to find a free online roulette game.
Your winnings are determined according to how likely your particular choice of bet is. For instance, betting on black gives you an even chance of winning, so you'd be paid out your bet, nothing more. However, if you bet on particular numbers, like the dreaded 0, you get a payout of 35 to 1, with odds of 36 to 1 to win.
There are other ways to play, of course, but the best way to play roulette is to play the European game (no double 00) and choose a bet that will pay out well enough to give you some sort of benefit (so don't go for even bets). Otherwise, it's ridiculously easy to play – place your bet, spin, and win!
How to win at roulette online
Roulette is perhaps the most honestly random of the traditional casino games, in part because the ball lands where it does with no help from you when you're at the roulette table. The random number generator, or RNG, that's used in the virtual versions produced by the big software development firms such as Net Entertainment, Microgaming, or Playtech, is pretty much the same mechanism as the one used for the slot machines and other casino games you love, so there's a guarantee of randomness that will make sure you're being treated fairly.
So really, winning is a case of placing your bets correctly. If you want to find out how to win at roulette online, it's worth having a look at the rest of this site, as we'll be updating it with new information and new views and opinions on the topic of online roulette.
But, as we say, winning in roulette, as in all casino games and online betting entertainment products, depends almost entirely on chance and not so much on your skill. It's a great leveler, is roulette, but you can maximize your chances of winning by finding a nice median between sure bets (i.e. black or red) and ridiculously extreme wagers (getting one particular number). Spreads, combos, and smaller groups may be the best option for you. It's a basic online roulette strategy, but one that might yield wins for you yet.
Online roulette rules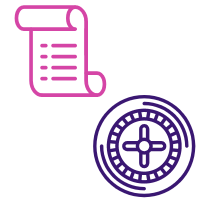 The rules of roulette are pretty much the same whether you are playing online or in a live casino. The only difference is the way in which the ball moves on the spinning wheel. If you are playing online, the ball is put into play by the aforementioned random number generator, and if it's a live online casino, the basic roulette rules remain the same, except for the live dealer or croupier who will put the play into action.
The main thing is that the table cannot be touched, nor can any more bets be placed after the game gets started. Touching the wheel once it's already in motion will of course cause all sorts of problems, but that's not a problem if you're playing online. Use your head, follow the roulette rules, and you'll be fine.
Basic roulette strategy
As has already been stated above, the strategy is a difficult thing to define when it comes to roulette. The house edge in European roulette is 2.70%, and in American roulette, it's a pretty big 5.26%. This means that it's going to take a bit of time, patience, and luck when you're trying to win at roulette.
Many roulette strategies will recommend that you place particular bets on particular numbers or combinations of numbers, or that you only bet while wearing red shoes, or something similar. Our recommendation, though, is to go for a nice median point – not too small a bet on even odds that you can't win anything, but also not too big a bet on tiny odds that you're going to lose everything. Find something with a reasonable payout ratio, and you might be in with some luck.
Basically, then, the best roulette strategy is to play sensibly, and don't go over the top. Beware of the gambler's fallacy, don't pretend it's a sure-fire way to make millions, and be careful of how much you bet. The perfect roulette system is to have fun and celebrate when you do win something. Oh, and you should also practice online with some of the free roulette games that are available at many casinos.
Free roulette game online
So if you've decided to want to try out the queen of casino table games, you should first off find out how to play the game, and then you should practice for a bit so that you know what to expect. Find out where you can play roulette for free, as this will give you essential practice before you start placing bets with real money. Check out your favorite online casino, place your bet, and see what comes out of it all. Good luck!
FAQ on Roulette casino game