Roulette Rules – How To Play
The game of Roulette may spark different images and thoughts in your mind; luxury, beautiful women, champagne, a red carpet… Right out to your limousine awaiting your arrival.
Roulette is a game of pure excitement, with your next winning chance just a spin of the wheel away, but first, you may want to know more about the game of Roulette; what are the rules of Roulette, and what kinds of Roulette can you play?
You might be thinking that the game of roulette is based purely on luck and there is no point in trying to get better at it since you can't really train your luck. But we would like to argue against that theory and say that there are some ways to increase the chances of winning. The game of roulette is probably the most beginner-friendly casino game there is and for that reason, it is also the number one choice for the newbies when they go into a casino. But even for them, it can sometimes be an overwhelming experience because there are many people involved, and often times the game of roulette takes the chaotic turn really fast.
But don't worry, we're here to make it all more simple for you. Making sense of the roulette is the best thing you can do for yourself as the player in order to make the most out of your chances and make sure that the luck will be on your side, at least sometimes
Roulette – The game of luck
We should probably mention yet again that controlling luck isn't that easy, some might say it is downright impossible, so if you are going to be playing roulette, you should be ready to lose sometimes, in hopes that you will be able to regain all that you've lost in no time. When we're talking about games like Poker, or even blackjack when you have some control over the odds, it is easy to become masterful and gain full control of the game, but with roulette, you don't really have this opportunity, the best you can do is learn the basics and keep your head in the game.
Out of the classic casino games, Roulette is definitely the most exclusive. The fact of the matter is, that poker and blackjack as fun as they may be, do require some extra effort and skill that a lot of new casino players just don't seem to have. This is why Roulette has always stood out as the type of gambling game that's accessible to everyone and everyone can play it.
The reason why roulette became so popular is that this game is based sheerly on luck and requires minimum thinking on your part and you can truly be in the moment while playing this game, waiting for the next best shot at Roulette. And not only does this type of game add excitement o the gambling experience it also makes it far more approachable which is every casinos' main wish.
The outcome of this game is dependant completely on luck and the players have zero control over the game when the numbers are about to drop, but you do have some control before and after the main event of the game occurs, so why not make the most of it and make roulette into one of your favorite games.
Basic casino roulette rules
The rules are actually quite simple and easy to follow, so you don't need to do worry if you're not a seasoned expert player – yet! As you've already probably guessed, not much is required from the player during the game. You just have to pick your number and then wait for the magic to happen. But as you might have suspected before there are some loopholes that players can take to increase their chances of guessing the number right.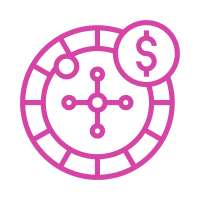 First of all, the Roulette wheel has 36 numbers, which in French Roulette includes a '0' (making 37 numbers total), and in American Roulette includes both the '0' and '00' (making 38 numbers total), in either black or red ('0' and '00' are green). The odds of getting the number right are also altered depending on what type of roulette you are playing and there are plenty of versions, especially if you are using an online gambling venue, since there is no space limit, nor there is the lack of dealers. Roulette has countless variations from different providers and you're guaranteed to find the perfect version if only you're willing to search for it.
According to the basic casino Roulette game rules, you need to consider your betting options. You have multiple betting options, meaning that you are not obliged to only make one type of bet each time you play, you can either make 'inside bets' (inside of the table) or 'outside bets' (outside of the table).
'Inside bets', or bets inside the table, meaning that you will predict either the exact number or a small range of numbers, that the ball will land in once you spin the wheel. 'Outside bets', or bets on the outside of the table, refer to bets made on groups of pockets (known as a split bet), whether the number is odd or even, or on the color of the pocket. Knowing what you can actually get away with is a huge step towards making the big gains and being on the winning side of Roulette.
Simple, right? As mentioned, the rules are simple, it's just a matter of understanding the basic casino Roulette game rules first.
One of the first things you should do before you choose your table assesses the situation, this might sound mundane but before you go in headfirst into a game of roulette, you should find out what kind of table it is, maybe there are some quirks, additional bonuses or even an ongoing tournament, But the basic rule of thumb is that you should always check out the situation before you actually start betting so you don't end up confused at the wrong table. This goes for both online and offline roulette tables since varieties come in both, brick and mortar casinos and online casinos. In order to avoid getting into confrontations with the drunks assess the situation before you become consumed by it.
Roulette Bets
Generally speaking in regards to the rules, there are the minimum and maximum bets in place, which differentiate among a player's inside bets and outside bets, and for which spin. For inside bets, different colored chips are sometimes used to identify the player.
Straight bets are that one particular number that you are betting on. This is when you place a chip on the number and if that bet turns out to be correct, the payoff is 35 to 1.
Then there are Split bets, meaning you place the bet on two numbers that are located right next to each other, in this case, the payoff is 17 to 1.
Then you have a Street bet,  meaning you bet on three numbers in a row and you place the chip on the line that separates them in this case the payoff is 11 t 1
The Square bet or the Corner bet is the one that lets you choose four numbers to bet on. Needless to say, these numbers need to be touching and you should place the chip in the center of these four numbers, The bet pays 8 to 1
Then you have Five-number bets and Six one bets with the payoff  of 6 to 1
In the rules, casinos will mark the winning number on the Roulette table once a number and color have been deemed the 'winner'. When this has occurred, you can no longer place, collect or remove your bets, as the dealer will then rid of all losing bets.
You can also place the outside bets, meaning that you could bet that the number that will turn up will either be Red, Black, Even, Odd, Low bet, High bet, Dozen bet or a Colum bet. in this case the payoffs are much smaller since the odds of winning are actually much higher.
While knowing all the options you can ease into playing the roulette and see if you are having a good day or a bad day with the roulette table. Many professional players would suggest going a bit tame in the begging and testing out waters with outside bets. But once you feel comfortable playing you can increase the payoffs and even go for a single bet
This gives you a very simple overview of the basic Roulette rules, and once you understand this, you'll be a winner in no time!
Rules for playing roulette online
The rules for playing Roulette online are the same as in a casino, except you're playing on a computer, tablet, or mobile as opposed to in front of a live dealer! Just picture the game as the same, but two-dimensional. While the experience and the excitement of playing online are definitely the same, and for some people, it might even be more exciting to gamble online, since they are in the comfort of their own home, or even enjoying the games on their phones on their way to work. There is a lot to be said about online casinos and how they might be elevating the gambling experience.
But despite these advantages of playing online, there are some differences between playing online and playing offline which might be useful to know in advance. When playing online you might come across different challenges that might not even cross your mind when you are playing at a legit brick and mortar casino. For example, when playing online there are much higher chances of you ending up with a scammer company, an unlicensed casino – every gambler's nightmare. These casinos offer no guarantees that you will get your wins and they aren't responsible for their actions so to speak. This is a mistake that a lot of newbies make when playing online first time so make sure you are not one of them.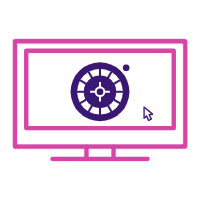 The most important and defining factor of online Roulette rules is being familiar with the different buttons and functions. As mentioned above there are limitless varieties of roulette online simply because the developers are bound with the classic obstacles that real-life casinos face when offering roulette tables. In the virtual world, the possibilities are endless. This might mean that you will need to get accustomed to different variations and how they function, But first, let's remind you of the rules from a general perspective.
First, in terms of rules online, you need to click the button on your screen, which is usually an image of a casino chip with the amount on it, determining your bet amount. Generally, the values will either be one, five, twenty-five, or one hundred. After, you determine which type of bet you place (inside or outside) by where you click on the table, and spin away!
While the form may be different the basics of the game remain the same so make sure to brush up on your theoretical knowledge of roulette before getting into some sort of weird game.
These Roulette casino rules are quite straightforward, however, there are a few buttons you should be aware of when playing online Roulette. There is always a "clear" or "clear bet" button, which resets your bets and enables you to start from zero. The "rebet" button, when clicked, simply repeats the last bet you made, and the "rebet and spin" button will both rebet and spin for you.
Online roulette betting rules
When playing, you must stick to the type of Roulette bets allowed, which again, follow the general rules; you can only make either inside or outside bets. The rules regarding different types of betting remain the same through and through although the payoffs might vary so make sure to check before you place any sort of bet and set your expectations high.
Since everyone wants to make a win sooner or later with Roulette, the online Roulette betting rules allow you to bet on more than one number at a time. This is a great opportunity for the player! Some examples of these options are bets like anyone number up to 36, an odd or even number, a corner, red or black, groups 1-18 or 19-36, or a row.
If Roulette rules in casinos ever confused you, these guidelines should help you understand the game much better and help you on your way to becoming a seasoned pro! After all, don't we all want to experience walking the red carpet, cameras flashing, with a fresh Martini in hand?
When playing online make sure to only give away your personal and financial information to casinos that have the official licensing so in case there is a misunderstanding you have a least some ground to ask for your refund.
American, French, and European roulette rules
We're talked a  lot about how there are so many varieties to the game of roulette but we haven't really discussed these varieties in great detail. But don't worry we've got you covered. These varieties can be found both online and offline and you are free to choose whichever seems to fit you the best as a player.
By now, you may have realized that the online Roulette rules are quite simple, but then it poses the question of the differences between the three different types of Roulette. Not to worry, these are just as easy and don't differentiate much from what you've learned so far!
American Roulette
American Roulette rules are easy to follow and do not differentiate too much from the basics. First off, American Roulette is regarded as a 'faster' way of playing. However, the biggest difference of all, is that you have the addition of the double zero (00). What this means, is that the wheel changes in terms of where the numbers are placed, as there is now an extra number, the double zero.
French Roulette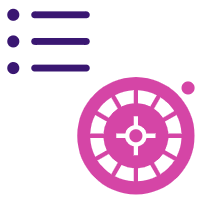 French Roulette rules differ mainly in terms of the Roulette table, which naturally, will affect your odds. The table only displays the '0' and numbers on the table are also white. If you compare the two wheels, you will see that the numbers differ as well. Most importantly, if you bet an even-money wager, you only lose 50%, which is a great benefit in comparison to the American version.
Although very similar, European Roulette rules differentiate slightly from French rules.
These rules are closely comparable in that they 37 numbers (1-36, and 0). The colors of the numbers are also red and black. One benefit is that you have a better house edge, 1:36, compared to 1:38 in the American version.
The rules among the three versions are more or less the same, however, there are some variations that do alter the way of the game. Learning the rules for Roulette is by no means difficult, however, it takes some time to get used to and understand, just like with any game! The more you practice, the better you will be, so take this knowledge that you've learned here and started playing for free at one of the many great online casinos! Soon enough, you'll be a Roulette pro!
Considering that some of these variations offer less favorable odds, you can make the choice for yourself whether you feeling a bit riskier or you would rather play it more or less safe and have higher odds of scoring the right number. Because of these minor differences, these games vary a bit but with the knowledge that you've acquired so far in this article, you should feel confident tackling any of these variations and knowing that you have at least some control over these decisions and your bets.
As gambling gets more and more popular we will likely start seeing even more options for roulette and probably some new strategies aimed at making the game more fun and profitable for the players. While we have established that for the most part the fate of each roll of dice is determined at the sot and can not be tampered with. strategies that should we apply to our moves before and after they roll the dice.
Roulette special rules
The rules of roulette are pretty simple as we've covered it here, you just choose a number or multiple numbers on the table and then you wither win or lose, and how much you win or lose is determined through the type of bet you make. As we've mentioned above it is crucial that you make sure that you're playing at the right table where there are no surprise rules or features that you weren't aware of or ready for. Other than that with all this information you've acquired here, you should be good to go. For the longest time roulette remained one of the most popular casino games, if not the most popular, and in the future, it will continue to bring in new players as it becomes even more accessible for players around the world.
We've covered almost everything there is to know about this exciting casino game so now you should feel confident and calm going into a roulette game whether that will be on your next trip to gambling venues or during your next chill night at home. With these tips, you should be able to maximize your success rate during any game, coming in prepared and taking the game by storm. This is one of the easiest games to get into and with some practice, you could actually get really good at it too.
This is one of the best ways to test your luck and ease int of the gambling world, the roulette rules are simple and you won't have to stress too much during the game about making the right over because in the end it still boils down to some luck and good odds. But since we've covered everything every good player knows about this game, make sure that you give roulette a chance next time you get the opportunity if you haven't done that already. And if you were already a roulette lover, make sure to use some of these new tips in your next game.
FAQ on Roulette rules