Casino Card Games – Gaming for money
Mention the phrase online casino card game to most folks and it will no doubt conjure up images of taciturn cowboys in wild west saloons where one false move can end in tragedy courtesy of the barrels of a Colt revolver, or alternatively, the bejeweled and tanned super-rich playing for pocket money (eg. millions) at the tables of Monte Carlo or Macau.
And yet, whilst there are always nuggets of truth in all stereotypes, there's so much more to casino card games than this.
Did you know, for instance, that you can play casino games from the comfort of your own smartphone, so to speak, or that some games like Baccarat offer very favorable odds to a player without even having to employ much of a strategy?
Well, even if you did, let's take a brief look at some of the major card games which can be played both on- and offline, so you can be better informed as to which (if any) of these is for you!
Check the best casino card games offers
Most popular casino card games
Let's start with a few more definitions of terms before we go on.
First off, we are interested here primarily in gaming for money. Free to Play (F2P) is a fast-growing area these days, but it's a separate sector all to itself. We'll mainly be talking about how to play casino card games for money, and more specifically, online – although most of the principles can be applied to the land-based, walk-in casino versions of the games.
The most popular games, often listed under 'table games' with online casinos, are BlackJack, Baccarat, and the various types of Poker.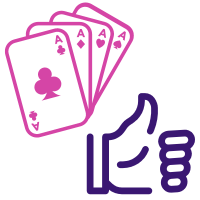 BlackJack has long been a casino staple – there is even a BlackJack world championship, so it isn't simply a game of chance – and is a variant of the 'pontoon' family of games where the aim is to get closest to 21 without going 'bust'. Incidentally, Pontoon itself is offered by some casinos.
Baccarat is associated with the glitzy, glamorous world of Bond (in fiction) and his creator Ian Fleming (in reality) both of whom had a penchant for the game, but in the online version, it really is quite straightforward and largely a game of chance.
Poker is a huge family of games, played with 3, or more commonly 5 and sometimes 7 cards per hand and with a variety of different rules, though common to all of them is the hand ranking, from Royal Flush (highest) to a high card or pair (which is the lowest). It includes the popular Video Poker subset of games.
There are other less well-known gambling card games, including Red Dog Progressive, Punto Banco (really a type of Baccarat), and Crown & Anchor too. Most casino card game rules are available on the site in question.
How to play casino card games?
With the online game, one big advantage is that you are not only able to play from the comfort of your own home (or wherever you are) but also not subject to the strict rules as to how much you can stake (most card games will come in variants depending on what the minimum and maximum stakes are, from effectively free casino card games using 'play' money, up to the high roller variants).
If you aren't sure of the rules you can usually consult them at your leisure on the casino itself, and, as noted, practice using play money before you make a deposit. Browsing a casino card games list can be a good way of choosing whether an online casino is for you, if slots, slots, slots are not your thing. One other important consideration about how to play casino card games or games is whether the game is against the 'house' (ie. casino) or against other players.
For the most part, games are against the house (this includes BlackJack and Baccarat) regardless of whether others are playing at the same time (which can be the case with Live Dealer casinos).
There are also several types of Poker against the house which you will find on any casino card game list including Oasis, Caribbean Stud, and Russian Poker. These are the varieties we are most concerned with here; online Poker rooms where you can play against other players, most typically Texas Hold 'em, Omaha, and several other types, are beyond the scope of this piece.
Card game rules for beginners
There are many different types of popular casino card games out there as we have already seen.
Naturally, they all have quite different rules and it is beyond the scope of this item to go through them all.
The key things which are common to them all are they will use a deck of 52 cards, or sometimes multiple decks of 52 cards (in the case of multi-deck BlackJack, where 4-8 decks are the norm).
There are also some games that will use Jokers as well, generally as 'wild' cards which can double up as any other card of your choice. This is usually indicated in the name, for instance 'Joker's Wild' is one of the more popular online casino card games and is a variant of Video Poker.
Speaking of which, all Poker games will use the standard Poker rankings.
These are as follows (lowest to highest):
High Card (eg. a King or an Ace)
Pair (same number)
2 Pair
3 of a Kind (same number)
Straight (all cards in the hand run sequentially by number, eg. 2,3,4,5,6)
Flush (all cards in the hand from the same suit, eg. all hearts)
Full house (3 of a kind + pair)
4 of a Kind
Straight Flush
Royal Flush
There may be some variations between different types of Poker, for instance in some types of Video Poker a single pair won't count. Always check the paytable and rules of the game in question before playing.
As regards other casino card games online which don't employ Poker rankings, for instance, BlackJack and Baccarat, suits are irrelevant; face cards count as '10' and Aces can be both high and low as you wish, in the case of BlackJack.
Basic card games strategy tips
Again this is just a very brief overview of the strategy you should employ when you play casino card games.
Always take the opportunity to use free play to get acquainted with a game before taking money.
This can be both in the form of F2P games mentioned above, which you can often play on your mobile, as well as 'play money' options that most casinos offer for their best casino card games.
Always remember though that any money you 'win' is purely theoretical as well!
When playing BlackJack, you should always consult the BlackJack tables which tell you what to do in which situation. It's all perfectly legitimate – indeed most walk-in casinos give out printed tables as matter of course. The tables don't mean you will necessarily finish 'up', they are just a way of reducing the 'house edge' (casino's advantage) to your advantage.
Incidentally 'card counting' which can be applied to walk-in casinos when playing BlackJack does not apply online because cards are purely random, being drawn via computer programming rather than a physical deck.
Reducing the house edge in Baccarat can be done by always betting on the 'banker', which is slightly more likely to come up than the 'player'.
As for other card gambling games, there are specific strategies to each type of Poker so it's worth googling these when selecting one to play.
FAQ on Casino card games