You have found a casino that suits your needs. You have made your first deposit. You have claimed your welcome bonus. Now, what are you to do? More to the point, what casino gaming software are you going to be playing on?
If you've been playing for a while, you will have heard of some of the bigger software developers in the igaming industry. After all, those slots don't just create themselves! But there are other newer developers that have also begun to leave their mark on online gaming, and more games means more choice and more wins for you, the player.
So let's take a look at what you can expect from some of the best online casino software companies, including bigger, better-known names as well as some exciting newcomers to the gambling scene.
Online casino software companies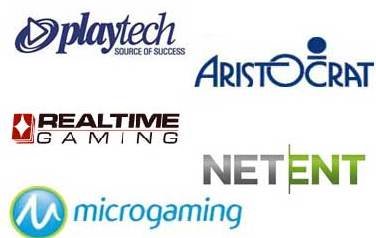 It sometimes seems like there are new gambling software developers emerging from the woodwork every week. In addition to the big players like Sweden's Net Entertainment, granddaddy of the genre Microgaming, and the popular Playtech, a few other new names have been making appearances at casinos all over the internet.
Net Entertainment is perhaps the best-known of the lot. Based in Sweden, and providing online gambling software to some of the best casinos around, NetEnt (as they're more commonly known) are a common presence at online casinos, one you've probably encountered sometime in the recent past. Their most popular games are classics like Starburst, Gonzo's Quest, and the Mega Fortune progressive jackpot slot. Playing one of these great slots will give you big wins and an exciting gameplay experience.
If you want to try out the oldest online casino software developer, though, Microgaming is the name you need to look out for. They've been around since the very beginning, and indeed, they are the oldest software development firm for online casinos. They have an impressive range of slots and casino games too, with stunningly designed 3D spectacles like Avalon II being their particular forte.
However, Microgaming are not the only casino software providers to create magnificent 3D slots. In fact, Betsoft are also well-known for their excellent animated masterpieces. Games like Dr Jekyll and Mr Hyde and Good Girl, Bad Girl have become firm favorites with the gaming public.
There's also Playtech, a developer that provides casino games software to some of the bigger casinos like Betfair and Winner. Typically, if a casino has Playtech games, it only has Playtech games. There's usually no wider selection, although sometimes you can find a wider range of slots from other developers too.
Finally, some of the best casino software to come out in recent months has been from smaller developers such as Thunderkick and Yggdrasil, two very exciting slots developers that have also been spreading around the internet.
As we say, there are some very exciting developers around. But there's more to come!
Best online casino gaming software
You have to be careful when you do anything on the internet. And you have to be discerning. So which casino games software provider should you choose?
The developers we've mentioned above generally have the best selection of games, the fairest slots, and the most stringent restrictions on their client casinos. This means that you'll be guaranteed a fair game and a fair chance to win. There are a few other online casino software companies that are reputable, but if you want to make sure that you're treated fairly, go with one these guys.
Mobile casino software developers
But what if you want to play while you're on the go? What if you get bored while sitting on the bus or train on the way to work, or if you're stuck in an airport for hours on end?
Don't worry, as there's a constantly growing selection of slots and other games available on various software platforms. This, of course, includes mobile platforms like smart phones and tablets, and although this is still a relatively new area with a limited number of games, the selection is growing every month and should soon challenge the range of games on offer on desktop platforms.
Live casino software providers
In spite of the rise in mobile gaming and the move from brick-and-mortar casinos to the internet, gaming software companies also recognize the desire of some of their players for the human touch. That's why you can now play with a live dealer at many online casinos. Just like in a real casino, you'll be able to chat with the dealer and any other players at the table, and, of course, you'll be able to win big cash prizes from some of the most beloved casino table games.
So have a look at our selection of reviews of casino software solutions, and see which one takes your fancy. We reckon you'll love what lies in store for you!