BlackJack Tips – Control the outcome of the game
Blackjack is often considered one of the most beginner-friendly casino games out there, the reason being that the rules are relatively simple and the odds are actually quite promising for the player. Blackjack like most casino games is all about luck, but unlike some other popular casino games, you have a chance to calculate the moves and at least partially control the outcome of the game.
Blackjack might be simple, but it isn't easy to be really good at it, because some skills needed to succeed in blackjack can only come in practice, but we're here to provide the theoretical basis so that you can go out there, practice, make an informed decision and get really good at blackjack. It's not surprising that the best blackjack player has a unique mix of theoretical knowledge and practical experience because it does take some time to apply these tips and tricks to the game and do it flawlessly.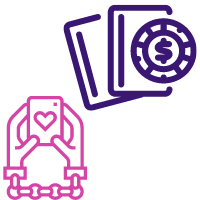 Like in most casino games, keeping your cool during the game is a crucial part of winning and having a good game so we won' bother with going into too much detail about how important it is to stay calm and cool during the game, but in order to be able to use all these tips and tricks that we're about to share you will need to have a clear head.
You can get acquainted with the basic rules and some strategies on our other pages, but here we're going to focus mostly on little tips that elevate the gambling experience and make the game of blackjack even more enjoyable.
Many of us who enjoy a good game of blackjack know what it takes; a little bit of skill, a positive attitude, and a little bit of luck! In addition, it is always helpful to use a blackjack strategy chart at the beginning, to get familiar with the game and form your own casino blackjack tips. Blackjack is easily one of the top 3 classic casino games that can be enjoyed at a casino, in the comfort of your own home, and even online, and our tips will help you out in any of these venues by taking you steps ahead of fother players. While using our tricks to make the game easier will probably require no time or much practice on your part, Strategy is something that only comes with time, as you need to know the game you're playing in order to be (one of) the best! It all starts here. Review tips for blackjack and master the skill of the card so you, too, can be a seasoned pro!
Test our tips here
Blackjack tips for beginners
For beginners, the safe bet is to stick to the basics. For example, you could really benefit from just memorizing the classics ways to hit, double down the stand, or split when you're playing. By relying on classic strategies you are cutting down the House edge from 1-2 percent to somewhere around 0.5 percent, which is definitely worth a try since it more than doubles your chances of winning, so why not stick to the basics, even if it is only for the beginning stages of your blackjack journey and then late, when you actually get good at it, you can start building your own unique strategies.
While relying on classic strategies, the only drawback is that everyone or almost everyone playing knows what you're doing. These strategies have been around for years and years, hence the chances of people guessing your strategy are higher, but then again you are reducing the risks when applying these strategies. On the other hand, when you are going off on your own and intruding your own strategies based on each game the chances of you getting called out are lower plus the wins could be really big. But since this page is mostly for beginners it's always much safer to just stick with the rules and play according to the strategy that is known to work each time.
Basic blackjack tips for beginners are quite simple to understand, so it is likely you will not feel too overwhelmed while learning the basics. Blackjack is among one of the simpler table games, as your aim is to total 21, or closest to 21, without going over that number. Essentially, when trying to beat the dealer. It is as important as ever to keep your head in the game and make sure you are making decisions based on facts and not just intuition.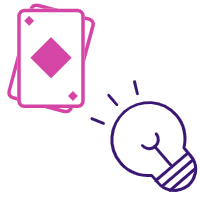 One of the best tips you can get as a beginner is to come prepared for your first couple of games, meaning that you should be able to have a cheat card on your first few games so you don't forget what you're aiming for, what are the rules and what you can or can not do. Usually, you will find these cheat cards in the entrances of the casinos, if you're playing online then you can just have it n a separate window. But apart from cheat sheets, these are some of the basic quick tips everyone should know
When the dealer has 206 and your hand is 12-16, the best thing to do is stand
When the deals have 7-Ace and you have 12-16, Hit
You Should Always Split Aces and 8s
Dealer's 2-10 versus Double 11
With Aces-6 Hit or double
These are the quick moves you can memorize to gain more control over the outcome of the game and increase your chances of winning. Every time you get the chance to use these tips in your next game make sure to do so. Also if you are a beginner make sure that you are not the first player making the move after the dealer pulls his cards.
Yet another extremely important tip is to pay extra attention to the dealer's card and make assessments based on it. You need to check your dealer's up card and see whether it falls in the good or the bad category, with 2-6 being bad and 7 -Ace being good. Also, keep in mind that you are playing against the dealer not against other players and their set of cards will not affect the outcome of the game for you.
Most importantly, some of the best blackjack tips need to be learned by heart, learning how to hit, stand, split, and double down. These are all crucial to the game. It is said, if you can manage to do this, then you can cut the house edge from 1-2% to 0.05%.
Some blackjack tips for beginners you can use are quite easy to remember and easy to execute. First off, you should always stand when your hand is 12-16 and the dealer holds 2-6. However, if the dealer has a 7-ace, and your hand is 12-16, you should hit. Generally, you should always split aces and 8's, while always doubling or making a hit if the hand is aces to 6.
These tips will get you thinking in the right direction in a game of blackjack. After all, every casino pro needs practice before they can claim such a title, and it all starts with the basics! Make sure you take advantage and play blackjack online for free, so you can get the feel for the game before you go full force into your blackjack tips to win!
Tips for online blackjack
Just like most casino games, blackjack is played online as well, The differences are slight but might still affect your experience as a player and as a new gambler. The perks of playing online are plenty, but probably the most exciting one for gambling lovers is that blackjack has almost endless possibilities when played online. You will come across hundreds of varieties of blackjack and depending on your taste you should be able to find the perfect kind of blackjack game for you.
When considering your tips for blackjack online, remember to stick to the tried and true strategies of the game. I can't emphasize enough that blackjack is a game of mathematics and probability, so following patterns and standard rules will serve you best and just because it is online doesn't mean that the rules are different. There might be some slight changes in the way the game is carried out based on the variety and which type of blackjack you will be playing but the concept remains largely the same through and through.
As mentioned, you should always have the blackjack strategy card handy, as you can refer to it at any time in order to help you make the right move against the dealer. Other essential online blackjack tips, are to, generally, not play insurance. When you play insurance, the house edge increases, of course, meaning it is more likely the house will win over you. This applies to online and offline games, every good player will tell you that there's nothing in it for you and you should definitely spend your efforts someplace else.
What are the dealer's up card? One of the important tips is to pay attention to the dealers up card. If they have a 2-6, it is generally regarded to be bad cards when following the best blackjack tips. If the dealer's card follows 7 to ace, those are regarded as good cards. Remember, the card the dealer places up will dictate what card you play! And depending on whether you play a live online game or the regular online blackjack the card might be placed in a different place or they be presented in a different way, so when you are playing at a new gambling venue always make sure that you know where these things take place.
A crucial rule to follow with tips for blackjack online is to, no matter how lucky you are feeling, always set a budget for how much you want to play with, or a "cap". As they always say, only invest an amount you're willing to lose, and it's the same with your online play. Blackjack allows you to set up boundaries and ensure that you don't dig yourself a hole. You can predetermine the amount you are willing to spend but that doesn't mean you have to limit the amount of money that you can win, so make sure to make the most of this opportunity and make it much safer for yourself.
Advanced blackjack tips
While the beginners might be the ones that need the most tips for surviving their first-ever blackjack games, it is actually a lot more interesting to observe the players who know what they're doing. And it might seem like there is nothing an experienced blackjack player can gain some extra knowledge on how to get better. Blackjack is definitely a game that gets easier the more you play it and the more you're aware of how to make the best of your current situation considering the cards that you get, but still, there are tips and tricks on how to make this experience even more exciting and how to make sure that game is actually exciting and fun. These are the tips that are meant for experienced players because they might be a bit too much for the beginner to handle and it might actually end up hurting the game.
Advanced blackjack tips can give you the ultimate knowledge to become a real winner in the game of blackjack. This advice entails ultimately the best tricks, and these tips will give you the best possible outcome for your wins.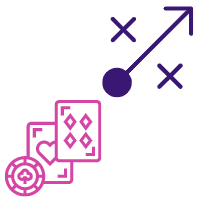 One common strategy that many blackjack pro's followed, is card counting. No, this is not against game rules to do, as you are simply challenging your mind to remember the cards that have already been dealt. Naturally, the more decks you play with, the harder it gets, however it is one of the very effective blackjack casino tips. Counting cards is something that doesn't come easily to a lot of people which is why we are only recommending it o those who already feel comfortable playing blackjack and can actually do it while thinking about something else, for example, counting cards.
The reason is that blackjack is a game of luck, sure, but it is also heavily dependant on the probabilities. When you take time to count the cards and figure out what is the net step for you that makes sense mathematically you are way beyond anyone in the game. Here are some general rules to follow, for those who like to play but want to get even better.
 You should always hit a soft 17 and stand on a hard 17.
Also, never split 5's or 10's
never stand on 12 through 16 if the dealer is showing a 7 or higher.
Keep in mind, a 6- or 8-deck game is often at a disadvantage to a player, anything with 5 decks or less will be more beneficial.
Lastly, one of the most important tips for playing blackjack online is to avoid betting progressively, as this will not maximize your winnings because it does not alter the probabilities of the game. What generally happens, is that you will bet more than you would have otherwise.
Casino blackjack tips to win
Let's face it, when we play a game of blackjack, we want to win! There are many blackjack tips to win, however, you have to keep in mind, the basic game structure needs to be understood before you can move onto the winning tips! Have you gotten that far? Great! Then let's get started!
Doesn't matter if you are an experienced player or you are just getting started the chances are that sometimes you will win and other times you will lose, but knowing why and how things are happening will make all the difference when it comes to the game itself. These tips will help you become better at blackjack and to feel more confident while playing.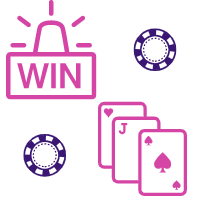 Blackjack truly is one of the best games to start off with and then some go on playing for the rest of their lives and blackjack remains their favorite game. Knowing the tips and tricks can help you become the master in one of the most player-friendly casino games out there.
Let's start with one of the best online blackjack tips and tricks; don't split two 10's! Holding a 20 is an excellent hand, and the next best thing to 21, so in reality, the likelihood of the dealer having 21 is not that high, meaning you would be more likely to win the hand!
As you may know, one of the worst hands in blackjack is a 16, so in the case that you have two 8's, you should always split them, no matter what the dealer has. By splitting the two 8's, you hold a better chance at coming out with one winning hand, make it a great blackjack tip to win.
Among additional great casino blackjack tips, you should never split two 5's. Two 5's gives you a value of 10, so the best option would be to double down and accept one card only. If you split the two 5's and get two 10's, you would have made two bad hands out of a good hand and would have had 20 if you doubled down. See how that works?
When it comes to the game of blackjack, it isn't difficult, but it isn't easy, either, so knowing these useful tips for blackjack online can give you a real winning edge! By using your strategy, relying on intuition, and using these tips and tricks you are bound to be one of the outstanding players at the table. With these helpful tips, along with the practice, practice, and more practice, you can become a skilled player at the game of blackjack, making your gameplay invincible!
FAQ on Blackjack tips