Gin Rummy Rules – Guide for beginners
There are a few theories behind the creation of Gin Rummy; while some believe it was created in 1909 by the American teacher Elwood Baker, while others claim it evolved from Whiskey Poker as a faster version of the old card-game Rummy.
Basic Gin rummy rules
Whichever version is true, 'Gin Rummy' as we know it today was established at the beginning of the XX century, and its rules haven't changed much since then. We've come up with some basic Gin rummy rules for beginners, although seasoned players shouldn't miss them either.
Before you start, keep in mind that the rules are pretty much the same as the ones used on any brick-and-mortar casino. Even if you play this game for fun with a friend, the same simple Gin rummy rules will count.
How to play Gin rummy online?
Similar to the standard version of Rummy, the internet Gin rummy rules state that it can be played only by two players, and the objective is to score a specific number of points (e.g. it can be 100 or less) before your opponent. Whether you're playing at a land-based or online casino, the rules state that a game can continue until a player has a final score of 100 or more.
Cards are counted in the following way:
Aces: 1 point
Face Cards: (Js, Qs, and Ks): 10 points each
Other Cards: pip value, e.g. 2 is worth 2, etc…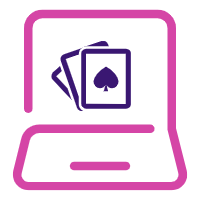 Since the online Gin rummy card rules have virtually no difference from a real-life casino one, players won't have any problem using the same strategies ad tips for the online version of the game.
Learn these basic rules and scoring will get easier with just a few tries. The way to score points is by forming melds or sets of cards that can either be:
Run: a set of 3 or 4 cards belonging to the same suit and in consecutive order (e.g. 3 of hearts + 4 of clovers + 5 of pikes)
Set: a set of 3 or 4 cards with an identical range but can be from different suits (e.g. a 3 of hearts + 3 of diamonds + 3 of clovers)
One of the most basic Gin rummy rules is that a card can only be used once!
The same rules that apply to the 'real-life' game are also the rules for Gin rummy online. Similar to some casino games like Craps or Baccarat, the difference between playing online or at a land-based casino is just the feeling of people looking at you.
So don't fear playing this game online, once you learn the rules, then the chances of winning and the thrill of the game are basically the same as in a land-based casino.
Pay attention to the different variations found online of Gin Rummy. Titles such as Aces Gin Rummy, Straight Gin, Hollywood Gin, Oklahoma Gin, Multi-Match, Single Match, and even Mahjong are considered as a variant of this game.
They all follow the same basic rules of Gin Rummy, but players must learn some basic differences in order to follow the rules; e.g. Straight Gin and Mahjong don't allow players to 'Knock', while in Hollywood Gin players will keep the score of 3 games, and all hands are played until the 3 games are done.
New players may perhaps find the Single Match variant the most convenient to learn the basics of Gin Rummy. In this game, punters will continue playing until one of them reaches 100 points or more.
Other variants of Gin Rummy include Fan Rummy, Solitary Gin, Gin Rainbow, Gin Shot, Gin Rush, etc… unfortunately not all of them are available for the online platform.
Gin rummy rules for beginners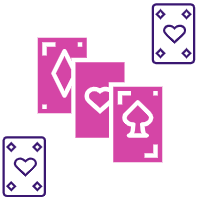 The Gin rummy card game rules indicate that cards can only be dealt for 2 players, and they'll be given 10 cards each. The first one should take a card and add it to his/her pile. Cards can be taken from either the discard pile (facing up) or from the stock (face down).
Now, here's when knowing the basics will help you achieve more in just a minute: when taking a card from the discard pile of the stock, players must also discard one card and leave it on the discard pile.
The idea is for players to form a run or a set before the opponent. However, things are not so simple; one of the casino Gin rummy game rules is that the remaining set of cards(those unmatched/unmelted ones) are called the 'deadwood'.
Once a player has a set or a run, the deadwood left should be equal or less to 10 points, otherwise, they can't claim victory, aka 'Knocking' in the game of Gin Rummy.
If you're playing for real money, remember to start betting low and then increasing your bet. Don't try to become the next Stu Ungar overnight! Even though Gin Rummy is in fact an easy game to learn, you'll have to deal with different tactics and strategies when playing against experienced opponents.
Casino Gin rummy betting rules
We've all being new to a game at least once in our lifetime; and even if you're a seasoned player, reading some basic rules can always be useful. That's why we've penned down a simple step-by-step guide on how to play Gin rummy that you may read before playing for real money.
This game is called Gin Rummy for a reason! When a player has zero deadwood, then the winning player would declare 'gin' (aka 'Going Gin') instead of 'knocking' the table.
'Going Gin' is one of the most basic rules of Gin rummy, however, pay attention to how your deadwood and on your opponent's one as well. Read below to find out why.
Once you declare 'Gin' you'll get 25 points extra on top of your score, plus your opponent's deadwood count. This is why Scoring Gin rummy games can be addictive, since it's a more personal game than, let's say, roulette or baccarat. Here you'll be facing your opponent at all times and his deadwood will become your points!
FAQ on Gin Rummy rules