Royal Panda Casino – Is this online gambling destination worth it?
Royal Panda is an online casino with over 10 years of experience in the online gaming industry, which has changed quite a lot over these 10 years, but Royal Panda has managed to stay relevant and exciting through all of this. The online gaming community has grown exponentially over the last few years and as the technology continues to play a bigger and bigger parts in our day to day lives, we might soon find that actually online casinos are overtaking the regular, brick and mortar casinos. Today there are definitely more online casinos than there are offline ones, but that does not necessarily mean that you are more likely to find the service that you enjoy in the digital sphere. While it takes a lot of negotiations quality checks and all over maintenance to keep the brick and mortar casino going, setting up an online casino is actually easier which means that more people are doing it. That is, of course, great in offering the customer a bigger variety in services and games, but that also means that it is becoming harder to distinguish between actual good casinos and just ones that there for collecting your money. The bigger variety doesn't always mean that the overall quality of these online casinos is better, which is why reviews have become crucial in separating these dud casinos from the ones that actually care about their image, their customers, and the overall experience they're providing. We've summed up all there is to know about this online casino to help you decide whether or not it is worth your time and money.
The Royal Panda website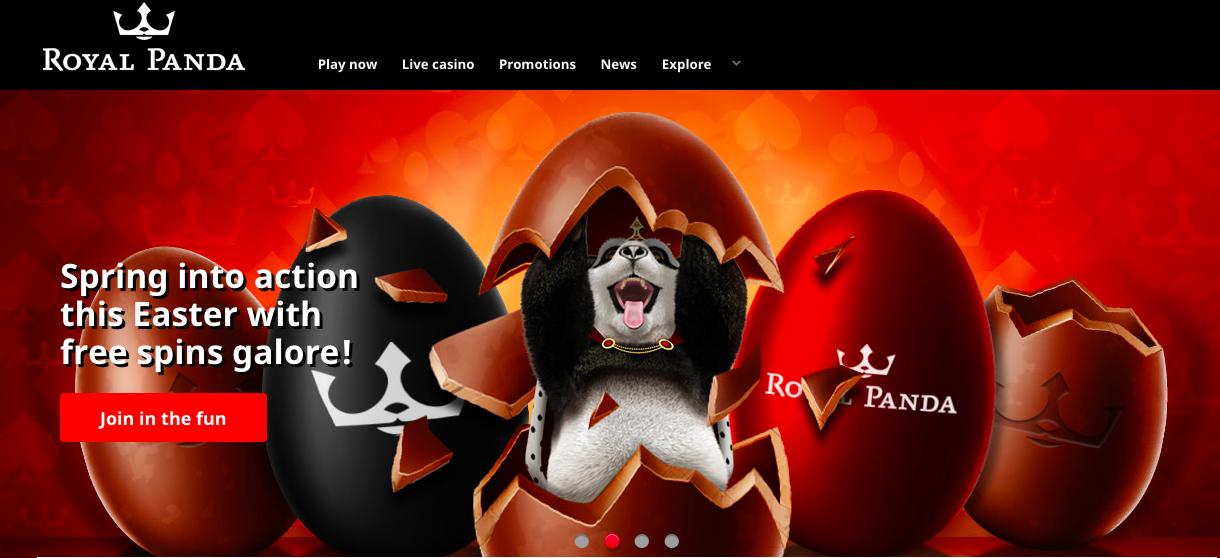 The Royal Panda website cuts right to the chase and shows you exactly what you're looking for. Upon entering the website you will immediately see all the greatest promotions of the website, where to start playing immediately, their live casino section, and much more. When you open the website you will notice that the Panda theme isn't just a part of the casino's name, but the overall design centers largely around Pandas, making the site live up to its name. Royal Casino displays it's best players and their most recent wins on the website so that you can get inspired and maybe try some of the games that other loyal customers have been playing for months. You will also see the live jackpot count as it goes up along with all the live casino offers and games right beside it. The website is very easy to get around since everything Is located on the front page and you can search for anything that you might be interested in. The Customer service information is also displayed on the first page, along with the basic info about the online casino, it's licensing and stance on responsible gambling. The Website is fun, but not overwhelming. You immediately get to see what this casino is all about, what you can expect and what sort of games you will be able to find there. Overall this is a great website that is simple yet engaging. You shouldn't have any trouble getting around it, even if you're not used to being online or playing online for that matter.
Gaming Selection
As much as every aspect of gambling experience matters, if the games aren't selected right or you have a lousy set of games to choose fro, everything else fades in comparison. The Game selections need to be solid, with all the classic games covered, with some variety thrown in the mix, the casino should also have a constantly updated list of slot games, which tend to be the most popular among online casinos because of their simplicity and the entertaining factors, and then you should also have a live option for those who prefer to enhance the social aspect of gambling and play with real people. The Royal Panda casino satisfies all these criteria. Upon entering the website you immediately see the Games section and you will find that the categories are actually quite helpful here. When choosing between slots you will have video slots, classic slots, heavily themed slots that take inspiration from people's favorite movies, or pop culture phenomenon. Surprisingly enough slots that are inspired by our past and history, in general, are also quite popular and you will find all of these categories on Royal Panda. You will, of course, find the most popular games as well, like Book of Dead, Vault of Anubis, Fortunes of Ali Baba, and Icarus Wilds. The online casino is constantly updating their game selection to keep even the most loyal players on the edge of their seats. You can also get access to scratchcards games that are not that common in online casinos but actually tend to be one of the public's favorites. Of course, the casino also has a great selection of more classic table games like Roulette, Blackjack, and Poker. You can play it regularly or you can enjoy it in the live version. For each of these games, the casino has a variety of different versions that could satisfy any taste.
Banking systems
Of course, you can not even consider playing at the casino before you make sure that it is actually a safe space to gamble and that your transactions will always be secure and fast. Gladly there are a lot of ways to make that happen with different e-Wallets and fast bank transactions. When playing at Royal panda there are no additional fees you need to pay to make these fast transactions happen and you will be able to get your money almost instantly, just as your deposits will appear in your account within minutes.
When it comes to deposits you can use VISA or Mastercard, Skrill, Neteller, Paysafe Card, AstroPay, ecoPayz, Euteller, Giropay, Instadebit, simpler, and many other mainstream payment methods, the minimum deposit amount is always $10 but the limit varies from $10,000-$15,000. The transaction time is instant in all these cases and you can expect to start playing immediately. When making withdrawals you can use Fast Bank Transfer, Skrill, Neteller, VISA, or Mastercard. When using e-Wallets the funds will appear in your account instantly, but if you choose to use more traditional methods it might take anywhere from 1-5 days for you to get your wins. The minimum withdrawal is $10 and max is $100,000.
Bonuses and Promotions
Of course, there is not one online casino that doesn't offer some sort of bonus. These promotions can be one time gifts or recurring bonuses that keep the player motivated and engaged enough for them to keep playing for a long time. And as an online casino that rewards loyalty, there is no shortage of such promotions at Royal Panda casino. Usually, online gambling venues try to attract new customers by offering them an outstanding welcome bonus. Royal Panda is one of the examples of the welcoming bonus done right. When you first sign up on the website and make your first deposit, you will get a 100% match up bonus, basically doubling the amount you can gamble. The deposit needs to be at least $10 for you to be eligible for this bonus and you will also get 10 free spins on Starburst, which is one of the most popular slots in the gambling world.  You have the change to get 1, even more, free money without having to make an additional deposit. The online casinos also offer different weekly promotions that allow you to participate in jackpot games without having to make any specific deposits. You just have to be a loyal player.
Another way to score additional free spins is to make a deposit of $25 or more and get free 30 spins the next day. You can use these spins for games like Attack on Retro, or you can choose the Bamboo Bonus when you get a 50% bonus match up to your deposits made on Friday and you can claim this bonus when making deposits up to $150.
They also offer monthly recurring bonuses, one in particular that stands out is Lucky 21- where every 21st date of the month you get a chance to win an additional $210 while playing blackjack. These types of promotions make sure that customers are happy and get more than enough free opportunities to increase their wins and master the art of gambling online.
Customer Service
No casino can be successful without having great customer service. Communication can sometimes be hard when you dealing with online services and since online casinos can get confusing for users who aren't used to this sort of medium active communication with customers is essential. Like most modern online casinos, Royal Panda has 24/7 live chat, where you can ask any questions or share your concerns with staff and expect to get the answer instantly. You can also go through the website's FAQ and hopefully get your answer even quicker. The online casino can also be reached via email and you can expect very fast services while using that method of communication as well. The casino prides itself on the friendly staff that is always ready to help and maintains their quality through and through. You can rest assured that n case of emergency or some type of misunderstanding the issue will be resolved within a day.
Pros and Cons
We've discussed Royal Panda casino extensively and now let's break down what's good about it what could use some improvements.
Pros
Extensive Game Selection
24/7 Customer Service
Recurring Bonuses
Cons
Not enough payment options
Conclusion
There are a lot of aspects that go into evaluating a casino and even lacking in one can greatly damage the reputation of a gambling venue. Royal Panda has been doing this for over the decade and they know exactly how to catch their customer's attention and make sure that they are entertained, satisfied, and invested in the casino for a long time. The gaming selection is probably one of the best things about this casino, and the fact that itis constantly being updated just makes it more exciting. The payment options are also great, even though it would be better if all the options that the occasion has for making deposits were also available for making withdrawals since the convenience is probably the number one thing people look for when dealing with online casinos. Other than that Royal Panda is a very dependable choice because it is a casino that cares about its customers.