Craps Rules – A simple form of gambling
Craps can be taken as one of the simplest forms of gambling though it is one of the most common games found in brick-and-mortar and online casinos. Unlike Roulette and Poker or other table games, Craps doesn't need much equipment or physical requirements, just a pair of dices and money to bet and learning craps rules for beginners in order to make the best out of this game.
Craps first came to the US from Britain in the 19th century, it is a simplified version of the game that was played all over Europe, called hazard, and was at first referred to as Krabs. Some say that the origins of the hazards game date back to the Crusaders. The main difference between these variations is that in hazard the player gets to choose his main number ranging from five to nine, but in the craps version that evolved in America, the player's main number is always seven, it simplifies things because technically speaking the most common number that will occur when you roll the dice is 7 because it has the most variations between the two dices.
When the game first came to American it was mostly rejected by high-class individuals but it really took off in the less glamorous parts of the country and since then it soon became the most popular game among the locals.  Craps is one of those games that you can play anywhere, which is not surprising since the middle and lower class of 19th century America definitely would bother purchasing special equipment for the fun game.
But when you play in the casino there is usually a special table for Craps, sam goes for the online casinos as well. Craps table is relatively simple compared to most gambling games and their setups consisted of the passing lane, field, Don't come bar, Come section, and Don't Pass Bar. Its table is probably the most complicated thing about it and the rest is pretty easy to follow.
What is Craps all about?
Craps can be traced back to medieval times, although rules of craps have significantly changed since then; they've been modified several times to make them fairer for the players, reducing the risks of dice control, and making it easier for players to place bets on different outcomes.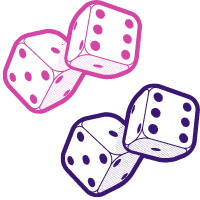 In regular casinos, you would use casino chips instead of cash to make your bets. Usually, there are four casino members involved in the game, a boxman who manages the bank, two base dealers, and a stickman who manages the placement of the bets. When it is online, if you're not playing a live version of craps, there will of course be no dealer and everything will be automated. Craps is a simple game that can be enjoyed y newbies and experienced gamblers alike, and it has proven to be the love of the most social and fun gambling games out there since its origin is basically within the people of the US, specifically New Orleans where people were trying to engage with each other and have fun using the minimum equipment.
Depending on where you choose to play you might end up with a game of Craps that resembles its ancestor which is Hazard, or you might find yourself in a casino that focuses on its simplified version. You don't need to worry about the rules being different, the only difference is in the number you can choose and then the odds that they come with.
This is the perfect game to start getting familiar with the gambling world if you don't necessarily want to go into something as mainstream as roulette but want to get started with something easy. Craps is a very social and fun game and honestly, it would probably fit the taste of most people who like to have fun and socialize while playing games. Much like the wildly popular game of roulette, craps don't require much skill or experience in order for you to win.
Is craps a game of luck?
It is very much a game of luck and probability where you cant control the outcome of the game since you can't really control what number the dice will roll. In the version of Craps where you only have 7s, even though the rules are different the luck plays just as central of a part as it does in the original version. This is why Craps is a perfect starting game for anyone who wants to explore this type of entertainment more in-depth and this is. perfect place to start with to get all your information straight before your next big game.
Craps is actually less common than some other casino games you have probably heard of like Roulette, Blackjack, and Poker. Part of the reason why is that it can really be played in any circumstance with minimal equipment so casinos are not necessary to play craps, but if the casino offers such n option it s usually always filled with crows since people seem to really love this game.
How to play craps online?
As with most casino games, Craps made its transition to the online world a few years ago and has risen on most platforms (desktop and mobile), for being a rather simple game, but one that can bring large winnings to all players. We've made a review of the basics of the online craps for new players unfamiliar with this game.
Once more, and unlike other casino games like slots, roulette, or poker, online craps are almost the same as real-life craps, with the exception that you won't feel the dice rolling through your fingers.
If you don't mind not holding a dice with your hand, then online craps will feel 'exactly the same as if you were playing it at a land-based casino; plus the rules to craps online are equal to the ones that apply for a land-based casino.
What about the casino craps game rules? All regulations and guidelines from real-life craps will be the same rules for craps online. Check below our 'Basic Rules for Beginners' to know the ABCs of craps and learn how to take every chance and win.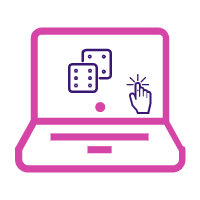 But ever since the online casinos started taking over the gambling world Cros has become one of the online casino favorites, unlike the regular casinos. Online casinos, in general, have more freedom with how they embellish the classic gambling games, and online you might also come across different versions of this gambling game as well. Many like to argue that online and offline casinos are relatively the same but we think there is enough of a difference between playing Craps at home and playing it at the casino, so we will discuss these very differences in more detail.
How to choose a casino
When you are choosing an online casino the security risks are actually much higher than in the regular casino. While playing from the comfort of your own home does seem like a good idea in it definitely is the preferred way to gamble for some people, you need to be real threats that come from playing online. This of course does not concern the entire online gambling world, not even the majority of it. but those exceptions really taint the reputation of online casinos.
The number one thing you need to know before you engage with any casino and hand over your personal information is that the licensing of the casino is a must if you won't have a safe and secure gambling experience. This is because so many casinos operating without a license hence taking off any responsibility to pay you off if you do end up winning a jackpot of some sort. When the casino is licensed, they answer to whichever country they are licensed at, specifically the gambling regulator of the sid country, which makes it possible for the clients to take up any issue they might experience when playing online with the said body.
And these regulatory bodies ensure that justice is served every time there is a misunderstanding at the online casino. When the casino is not licensed you will find that too many of them just offer false advertisement false bonuses and promotions with no intention of ever giving their players the experience they are claiming to offer. In order to avoid being one of the news stories in your local publication about the threats of online gambling, just do the research yourself beforehand and make sure you are playing with a licensed casino that cares about their customer's experience.
Play craps online here
Basic craps rules for beginners
Once players decide to learn craps rules, they'll find out they're easy to understand, and they've made to increase the chances of winning. These are the basic tips rules everybody needs to know before they start playing bu this isn't just for the beginners. You might as well be the experienced player in some need of refreshing their memory regarding the way game of Craps. As we mentioned above just because this game is easy does not mean that is exclusively for the beginner. Players of just about any experience can play this game and win at it too. Here is what you need to know to go into every Craps game
The craps table is shaped like a bathtub (approx. 14 inches long), long enough to take 8 players standing, placing their bets on the side. The craps table rules can be easily learned by analyzing the table layout, divided in the following way:
Pass or Pass Line: One of the basic craps rules. Use this area to place a bet. If you roll the dices and get either a 7 or 11 means you win even money. Rolling the dices and getting a 2, 3, or 12 means you lose (aka 'crapping out').
Don't Pass: The opposite rules of the 'Pass line' apply here, meaning that if you win even money if you the dice' outcome is either 2, 3, or 12; and you'll lose if the outcome is either 7 or 11.
So what happens if the dices roll a 4, 5, 6, 8, 9, or 10? This is when the 'Place' area comes into play.
Place Areas: When you place a bet here, you must choose a point or number you're betting on from 4 to 10, the number you choose will become the 'Point', e.g. if you place a bet on #4, then the other numbers have absolutely no effect on the bet. In this case, you're betting on getting a 4 before the dices roll a 7. The same applies if you bet on any of the other numbers in this area (from 4 to 10).
Field: On the 'Field' you'll find the numbers 2 to 12. Place a bet on any of the numbers in this area and you'll win if the dices roll any of them. As a part of the craps casino rules, numbers 2 and 12 will work as 'double bet', giving you twice your bet if you win.
Big 6 and Big 8: Place a bet either on the Big 6 or Big 8 and you'll be betting on rolling this number before a 7. If a 7 is rolled, you lose the bet; any other number will have no effect on your bet (2, 3, 4, 5, 9, 10, 11, or 12). These are perhaps one of the easiest craps basic rules since you're placing a bet on a specific number without much concern about the other outcomes.
Come Bet: After you have established a 'Point', you can place a bet on the 'Come' area. It works in a very similar way as the 'Pass Line' works, if the dices roll a 7 or 11 then you'll win, and if a 2, 3, or 12 are rolled then you lose. The difference is that, according to the rules for playing craps, you can make bets with odds that lower the house advantage.
Don't Come Bet: Working in the opposite way of the 'Come Bet', if a 7 or 11 is rolled you lose, and if a 2, 3, or 12 are rolled then you win. Works in a similar way to the 'Don't Pass Line, just that it decreases the house advantage.
Hardways: placing a bet on this area means you're betting on a number coming up 'hard' before a 7 is rolled. Once you've mastered the basic rules of craps you can easily use a hard way to increase your odds of winning. Specific dice combinations are considered as 'hard' bets, including:
4: betting on the 'hard' 4 means the dices' outcome should be 2-2. Any other combination is considered 'the easy way'.
10:the dices' outcome should be 5-5. Other combinations are 'the easy way'.
3:the dices' outcome should be 1-2. Any other is considered 'the easy way'.
11: the dices' outcome should be 6-5. Other combinations are 'the easy way'.
One Roll Bets: Placing a bet here means you're expecting that number to come up on the next roll of the dice. As some of the rules to play craps, the 'One Roll Bets' offers quite a few options to win, including:
Any Seven: players are betting only on number 7 on the next roll of the dice.
Any Craps: Players are betting on numbers 2, 3, or 12 on the next roll of the dice.
Horn Bet: Players are betting on numbers 1, 2, 3, 11, and 12 on the next roll of the dice.
By learning these simple craps rules for online casinos, you'll have an edge for winning larger amounts of money without risking much and taking advantage of the odds for each position.
Bankroll or Chips: This section is where the chips are displayed.
Casino craps table rules
Starting with the basics, craps only needs a pair of dices to play with, however, and in order to make it a fair game, there's standard equipment for casinos in order to offer this game to their clientele. While playing Craps in the casual environment can be played with any sort of dice, casinos usually hold themselves up to a higher standard.
As you can see from all the information we have provided in this article Craps really isn't that intimidating to play and actually, the odds are technically in the player's favor. You have all the information you could need to make an informed decision unlike is the case with poker or even blackjack. This is the case where you can really sit back and test out your luck, but of course, you should also practice these tips before you go in to actually play if you are a newbie. Something that we often neglect is the fact that when playing it's crucial to stay calm and collected so that the decisions you make won't affect your bank account negatively.
While this game may seem harmless because it is so easy, you might find yourself spending your money recklessly. In some sense, these easy games are always the ones you need to be wary of so you don't let your guard down and start eating away your life's savings. In order to not do that always try to have the predetermined budget for your games and try to control yourself when placing new bets. This will help you in all other sorts of gambling games as well, as you're trying to increase the chances of winning and playing hand after hand.
Basic elements
Some basic elements of craps consist of learning how to play craps, basic outcomes, and winning potentials. But the rest is all up to luck and the probability which we will never have control over. The best we can do is make an informed decision each time you decide to place a bet.
Though the online craps betting rules are the same as the land-based casino ones, playing online can be easier for some new players, since you'll have less pressure and more control over your game.
Online craps betting rules
As mentioned earlier, the same casino craps rules established for any land-based site are valid in the online platform. The Rules stay relatively the same through and through, the online difference might be indifferent features that these casinos will use to add a bit of "spice" to their Craps games. Online casinos generally offer more free perks and promotions so Craps is usually always part of the said promotions. This is why so many people enjoy playing Craps online as opposed to playing it in real, brick-and-mortar casinos where deals like the ones at online venues almost never happen. The online casinos have perfected the art of attracting new players and their best strategy is offering these types of bonuses that immediately draw your eye to their games.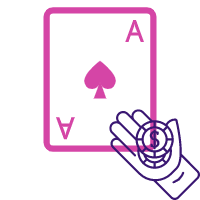 The betting rules usually vary from casino to casino and developer to developer, and this is why it is crucial to always double-check the policies that each online casino offers, In some cases, you might have the minimum bet and in others, you might be completely free to bet as much as you want and enjoy the game of Craps on your own terms. But since clearing up a misunderstanding is usually tougher through an online venue why not try and stay ahead of the game and get your rules straight from the get-go.
Craps is one of the most fun and easy games one can play when gambling, it is an easy solution for those who don't like the overly complicated games and politics of some other casino games. With its rich history and easy-to-follow rules who could say no to the game of Craps, whether it will be online, offline, or on the mobile device.
We hope that using our selection of rules, tactics, and best practices you will find yourself feeling a lot more confident when trying to get into Craps and you will increase your success rate by engaging your mind and knowledge to make the best possible choices for your personal wins.
You can refer back to the list anytime you want and use it as your cheat sheet in your future Craps adventures, doesn't matter if you are a beginner or an experienced player. Everybody needs some sort of pick-me-up and a refresher during gambling games, and honestly, it never hurts to recite the easy rules of this fun and engaging game.
FAQ on Craps Rules