Baccarat – An old French card game
If you've ever watched one of the classic James Bond films, or even one of the newer films, you'll have seen Secret Agent 007 playing a bizarre card game that looks like Texas Hold 'em poker, yet doesn't follow the same rules. And there's the weird cake slice they use to collect the cards, on occasion. This is the classic baccarat casino game, which comes in a couple of different formats, including Punto Banco, James Bond's preferred game.
But there's plenty to play for when you're playing baccarat. Casino game providers typically have a selection of baccarat games for you, and, with so many chances to win, it is not surprising that it's one of the most popular card games at most casinos.
But how does it work? How do you win? And what's with the weird paddle? Let's take a look at the classic baccarat card game, one of the kings of gambling games.
Try casino baccarat here
What is casino baccarat?
Without going too deeply into the history of the game, baccarat is a French card game that's been around for over 500 years. It derives from an earlier Italian game, baccara, which eventually developed into what we know today – baccarat. Gambling in this game obviously follows some rules, like every game. Cards are assigned a value according to their number, so an ace is worth 1, and cards 2 to 9 are worth their face value. Tens, Jacks, Queens, and Kings have no value in this game, which makes it a bit different from most other card games.
The person with the highest score wins, but the highest score you can get in one hand in casino baccarat is 9. The reason for this is that scores are calculated according to the rightmost number in the score. So if you draw a 9 and a 4, which should equal 13, your score will be 3, the rightmost number in the score. Sounds confusing?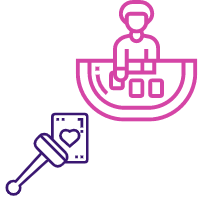 Each player, including the banker, is dealt 2 cards initially. If your initial score is an 8 or 9, you stand, but if it's lower, you refer to a set of rules that determine whether you take another card or not. You can only be dealt one extra card, and that determines your final score. Depending on the casino baccarat version you're playing – standard baccarat, punto banco, or chemin de fer – you'll probably find that the player is a lot less active in this casino game. Baccarat is based purely on luck. Card counting doesn't work, and you have no choice about whether you draw a card or not. You can shuffle and deal, sometimes, but again, it depends on the version of the game.
As a player, you can make 3 bets: the house wins, the player wins, or there is a tie. Ties, being much less common, pay a lot more than the other bets, usually 8 or 9 to 1. Either way, baccarat gambling is traditionally a game for the high rollers' high rollers. Big bets, big excitement… no wonder 007 was a fan.
If that isn't clear enough, why not try out a free baccarat game before you start placing big bets? It can't hurt, that's for sure. We'll talk about the benefit of playing for free online in a moment, but first off, where can you actually play?
Where to play online baccarat?
As might be expected, baccarat in its various forms has made its way onto the internet and is a fixture at many online casinos. You can play baccarat online at almost every online gambling site, but the question is more a case of what sort of bonuses and little extras you'd like to get in addition to your wins.
Almost every major online casino software developer has a selection of different baccarat available for players. When you choose to play at a casino, Baccarat online is one of the options available for free play and real money.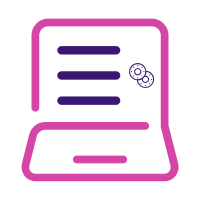 Software developers like Play 'n Go, Net Entertainment, and Microgaming all have a selection of both baccarat and punto banco games that you can play. There's also a range of minimum and maximum bets, so if you don't want to stake too much on an online baccarat game, or if you fancy your chances and would like to wager more, you can do both.
In fact, even if you're not quite sure where you should be looking for this classic card game, it's actually relatively simple to locate. Go to any baccarat casino online – which basically means any operator's website – and have a look in the table games section. You'll find it nestled in amongst other games like blackjack, roulette, and poker.
You can also sometimes play baccarat with a live dealer, and again, your minimum bet will depend on how lucky you're feeling. But regardless of your preferred version of casino baccarat, online casino operators will have something for you. The question of which site is the best or offers the biggest payouts is a question that we shall discuss in a bit. But before that, what if you know absolutely nothing about the game? What can you do then? What you should do is find a free baccarat game online, and then do the following.
Free baccarat online
Casinos offer all sorts of games online for free. These include slots, pokers, roulettes, and yes, even free online baccarat games. The benefit of this facility is that, although you can't make anything by playing this version of the game, you can learn how to play, how to bet, and what sort of strategy you should use, so as to maximize your wins without losing all your money.
Online baccarat works in the same way as the land-based game. The only difference is the pace of the game and the fact that you're not sitting in front of a dealer, but rather in front of a computer.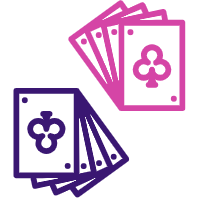 The pace of the game is important to note, at least if you're not playing with a live dealer, as this has an effect on the amount you bet, the likelihood of your loss, and the outcome of the game. Of course, if you're playing free baccarat online, you won't lose anything, but it's probably worth your while putting a bit of time and effort into seeing how much you can play in a certain period of time. Playing any free Baccarat game can't hurt, that's for sure.
Best online baccarat game sites
The good thing about baccarat and its various incarnations is that it's relatively difficult to get wrong, but it's a lot of fun to play and bet on. So if you have decided to play baccarat online for free or for real money, either way, you'll be having a great deal of fun almost anywhere you go.
We'd recommend you have a look at our range of excellent casinos, listed on this website.
In addition to hosting plenty of excellent slots and other great games, you'll more than likely be able to play baccarat free online, before heading to the VIP room and playing for big stakes. So if you're ready to take on the 007, try out a game of baccarat and see what happens!
FAQ on Baccarat card game