Casino Gods Review – What You Need to Know Before You Gamble
It's hard to make your casino stand out these days. It seems like every day we see tens of new gambling venues that claim they have the best services and no one can top their offers Sad to say, these claims are rarely true, which is why the reviews are so important, especially in this industry. We've combined a list of all the important metrics that you should look into before you decide you want to play at any specific casino. The casino in question today is Casino Gods, an online venue with a catchy name and engaging graphics.
A couple of things you should know about every casino before you decide to play is their game selection, whether or not they seem to prioritize the customer, and what are their offered payment methods. Things like customer service and bonuses, on the other hand, are becoming significantly more important every day. This is why we're going to cover every aspect here, and this will help you decide whether or not you want to spend your time and money on Casino Gods.
As we all know, more doesn't necessarily mean better and this is definitely the case with online casinos. With so many offers, all of them presenting thousands of games and seemingly tempting bonuses making the decision can definitely be hard. But in reality, all it takes is being informed, knowing what to look out for and how to tell whether this casino is here for the long haul or are they just trying to rip some people off.
The Interface
This casino definitely stands out from the second you open their website. As the name would suggest it is heavily inspired by the greek gods and the greek culture in general. You will find little symbols and characters from the Greek mythology spread around the whole website, every step of the way and immediate you see that this is a lighthearted place with fun games that is very much geared towards those gamblers who just want to have fun and hopefully score a big cash prize. The design and the graphics are quite outstanding, considering this is an online casino, because what you will find most of the time is that most casinos do not really care about their graphics, and they just want the customer to be able to locate all the games, and they cut straight to the point. But with Casino Gods, it is an experience to play, including their website and everything that leads up to actually playing. The website is pretty simple in terms of categories and how you can manage to find the essential information. You have all their greatest promotions right there on the home page, so you can get acquainted with what to expect from this casino. While very fun to navigate, it is still not overwhelming and strikes a perfect balance between informative and entertaining. When it comes to the web design and grabbing user's attention from the very first second, this casino has done it right
Games at Casino Gods
You can skim around the games offered at this casino on the main page. Right away you will see the most popular slot games like Starburst, Fire Joker, Lighting, Super Lion, which is actually a jackpot game. The games a very neatly organized into helpful categories With new games located together, so those who visit the website frequently can get to the new offers easily and to keep the website fresh and up to date at all times. The games are updated regularly so you can expect to find even the latest releases on Casino Gods. Another category that this casino offers is actually the Live casino. Live casinos have become a staple at every online casino that wants to beat the competitions. While the online casinos are already a good enough substitute for the regular thing, live casinos take it up a notch and make the game even more of a social activity. The dealers are working in live mode, along with other players who want to join in. This sort of gaming usually works the best with classic table games, like Roulette, Blackjack, and Poker. But on Casino Gods, you will also find games like Dream Catchers and Baccarat, which are also quite popular.
Then you can go ahead and explore big jackpots, all the games that could bring you the biggest wins are also categorized together for those looking to win big. And then you have your standard Table Games and Video slots, which are usually the most popular category since these are the games most people go to casinos for. Generally, the game selection is pretty impressive at Casino Gods and the way the games are organized also makes it easy to find the game you're looking for.
Banking systems
The casino offers all the modern payment methods for those looking to make deposits or withdrawals, and they make sure that ll of transactions are as safe ad as fast as possible. When making a deposit you have a lot of options and all of them are free and instant. You can use VISA and Mastercard, both debit and credit, Paysafe card, Skrill, Neteller, and ecoPayz. On all of these payment methods, the limit is $10 and the max amount you can deposit is $1000. When making a withdrawal, you have basically all the same options, with VISA debit or credit card, Mastercard credit, Skrill, Neteller, ecoPayz and just traditional Bank transfer. All of these will take somewhere between 1-3 business days but the withdrawals are free and the limits are yet again $10 for the minimum and $2300 for the max limit of the withdrawal. The variety in payment methods is actually extremely important because casinos should appeal to as many users as possible and since most of them are looking for comfort if they don't use the payment methods offered by the casino they might feel less inclined to use this specific service. And when it comes payments, Casino Gods also have the basics covered.
Bonus and Promotions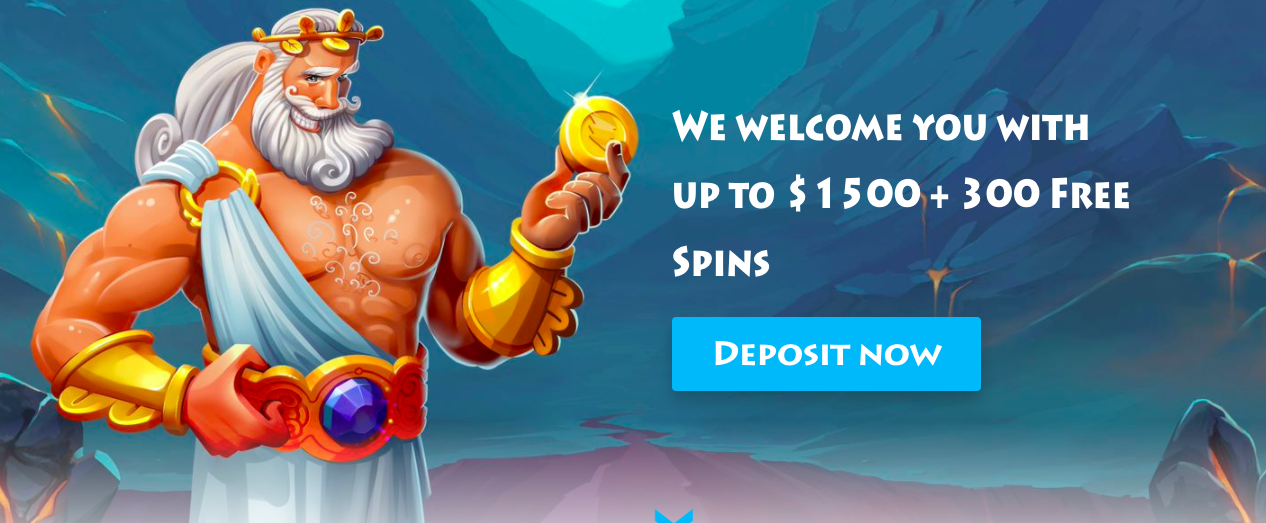 Casino Gods has very generous offers when it comes to their promotions. A good deal is an essential part of every good casino and it is also the best way for these venues to attract new customers and keep them around and interested. Usually, the casino's most generous offers come in the form of a welcoming bonus to attract a new user. All you need to fo to get Casino Gods' welcome bonus is to register and then make your first deposit. Upon your first deposit, you will be getting a 100% match up of up to $300 and in addition that 300 Free Spins. But that does not signify the end of your welcome bonus, because after your second deposit you will receive a 50% match up bonus for up to $400, on your third deposit a 25% bonus match up for up to $400 and then again on your fourth deposit you will also get 25% bonus up to $400, do keep in mind though, that T&C's apply. When you get your first 300 initial spins, the 30 will be awarded to you immediately and the 270 spins will be split evenly over the course of the next 9 days.
But of course, since Casino Gods care about keeping their loyal customer entertained and rewarded you will also be getting a lot of recurring bonuses. You can also claim your Fortuna deposit bonus where you can select your bonus from the dropdown and make a deposit of $20 or more and get 25% back and you can claim this bonus any month. You can also claim the 100% bonus up to $100 when you sign up to play at the live casino.  Overall, when playing at Casino you can be sure that you're getting all the best bonuses a player can ask for.
Customer Service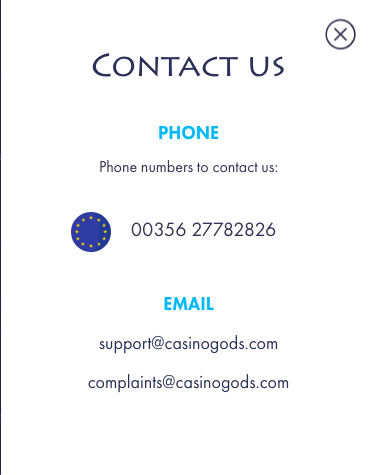 If you ever come across any challenges while playing, or you have any questions regarding the games or whatever it may be, you can rest assured that the casino's support system will have your back. Like any respectable casino, Casino Gods are also very heavily invested in creating great customer experience which is impossible without quality support services. In case you happened to have these questions you can address the casing either via phone, or via email. You can also look into their FAQ sections where probably most of the questions one might have would have already been answered. You can reach to Casino Gods stuff anytime via email and if you are calling to get the support you might want to have to wait for the appropriate hours.
Pros and Cons
Now that we have directed every aspect of this online casino, let's boil it down to the pros and cons to make it easier to sum it all up.
Pros
Great Web design and themes
Well-Organized
Various payment options
Cons
No 24/7 live chat for customer support
Slow withdrawals
Conclusions
to sum it all up, Casino gods is a great casino that offers very high-quality services, be that the game selection, transactions or customer service. The website is organized and entertaining, while the site is set up ina way that makes it easy, even for the newbies to get around. This casino is a great example of a well-rounded casino that offers great services and can always be trusted.