Mr Green Casino Review
Launched in 2008, Mr Green has become a beacon of quality and efficiency in the online gaming world. Though they only offer video slots and table games, they have grown to be one of the top online casinos, with several awards as Best Casino Operator won on several occasions. While offering a selected amount of slots and games can sometimes be seen as a disadvantage, actually, the casino is way more focused on the quality of their product and only offers the best games on the market. This is a huge issue all across online casinos, most of which tend to take the easy route and slack off in the quality department. As the online casino industry becomes even more oversaturated, distinguishing the good casinos from the subpar ones will become more difficult. This is why reviews like these matter so much and could help you avoid the unpleasant mistake of starting to play at the wrong casino. Owned and run by Mr. Green &Co AB, Mr. Green casino is a safe, well-designed and updated online casino that reaches different target audiences. The approach that Mr. Green casino has is actually quite refreshing and more casinos should probably take the same route. But none the less, a good attitude and quality games isn't enough to make a good casino these days. What has changed over the years is that the industry standard has been elevated and now customers expect way more from these casinos than they did even 5 years ago. Mr. Green is one of the most interesting examples of a modern online casino. It's fun, it's serious, it's Mr. Green!
Mr Green website
Once you make it to Mr Green Casino, you'll find yourself with very clear options and menus to choose from. The site is easy to navigate, and their front page shows the recently added video slots and table games, plus the latest offers and free spins for each country.
Although their site is featured in 8 languages(English, Norwegian, Swedish, Finnish, Czech, Dutch, Polish and German)Mr Green's website is mostly aimed towards Scandinavian and UK players. Make sure to check if your country is eligible for their promotions and cash bonuses.
To make things simple for all players, Mr Green's website displays only 3 tabs on top: 'All Games', 'Promotions' and 'My Home'. Choose any of them to search for specific games, special offers, or simply to land on your account and have a look at the various promotions awaiting for you.
Mr Green's 'All Games' section will let you have a look at their gaming database, with more than 350 games available, ranging from video slots, roulette, blackjack, live games, poker and jackpots.
Mr Green casino bonuses and promotions
Mr Green knows more about games bonuses more than anyone else around. They feature different welcome bonuses for each country, so it's worth choosing your location and language to make sure you receive the correct welcome and/or reload bonuses.
Norwegian players have a special treat on this site, with a welcome bonus that goes up to 9 000 NOK distributed this way:
1st Deposit Bonus – 100% up to 3000kr(deposit 3000kr, get 3000kr bonus)
2nd Deposit Bonus – 50% up to 1500kr(deposit 3000kr, get 1500kr bonus)
3rd Deposit Bonus – 25% up to 750kr (deposit 3000kr, get 750kr bonus)
4thDeposit Bonus – 125% up to 3750kr(deposit 3000kr, get 3750kr bonus)
They have reload bonuses on a regular basis for all registered players (aside from the 4 bonuses already mentioned), as well as special free spin and seasonal promotions.
Mr Green casino free spins
Free spin bonuses are usually changing every month at Mr Green casino. They don't have a specific offer every month, but they rather change it every now and then. Most times they offer free spins to specific games for a period of time, available for all new and registered players.
By signing up to Mr Green you'll receive an updated list of free spins every week, on top of special cash bonuses and game updates.
Mr Green casino games selection
Being at the top of your game means having as many games available to fulfill any preference. That's exactly what Mr Green are all about. With over 350 games to choose from, players can spend countless hours selecting, trying and playing-for-real different video slots and table games, including the latest releases from major iGaming software providers.
Titles like Terminator, Aliens, Mega Fortune or South Park are just but a few of an endless list of games categorized as follows: Video Slots, Roulettes, Black Jack, Live Games, Poker Games, Other Games and Jackpot Games.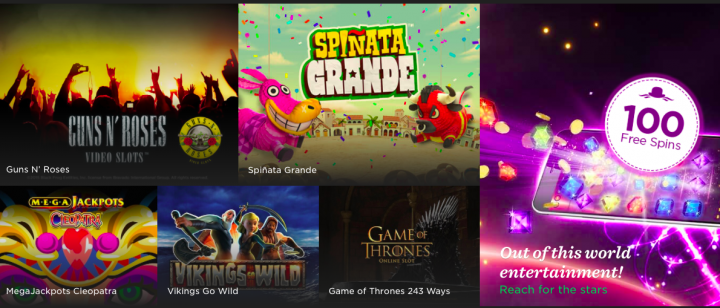 In addition to these categories, Mr Green have come up with their own and unique way to categorize games by having a 'Game Collection' section, divided into Summer Breeze, Enchanted, Starters, Bigger Bets, Classics, Animals, Viva Las Vegas, Classic Casino and Space; each one of them contains a set of video slots that related to the title (e.g. the Space category includes intergalactic-inspired video slots such as NetEnt's Aliens and Big Bang, among many others,…)
Game selection is probably the most important part of having online casino, since it really makes up for the majority of the value of the casino. This is why the occasion game selection at Mr Green is so well balanced.
Mr Green casino software providers
Mr Green are a sophisticated casino that seek to create experiences among their players by having one of the largest collections of online casino games from software suppliers such as Net Entertainment, Microgaming, NextGen Gaming, Quickspin and Thunderkick.
Some famous titles such as the Mega Fortune, Arabian Nights and Hall of Gods can be found on their Jackpot section.
They have over 13 kinds of roulette games, different blackjack alternatives, 9 live games, 18 video poker games, plus they've also added bingo and keno.
As an extra feature, Mr Green have their very own video slot designed by NetEnt called The Marvelous Mr Green. A simple yet fascinating video slot with fancy cars, constant wilds, free spins and a multiplier meter that delivers up to 6x your bet.
Mr Green mobile casino
Mr Green's casino has been developed to meet the technical requirements from most mobile systems available in the market. As of 2014, they're available for iOS, Android and Widows platforms for mobile devices. Certainly, the amount of casino games available is not as large as their desktop site, but nevertheless players are able to choose from a selection of over 90 video slots, 4 jackpots and 6 table games.
The number of mobile games is expected to keep on increasing in the near future, which could be agamchanger for the casino. With the pre-planned roll out of 5G technology people will be able to play from wherever. And since the speed of the mobile data is expected to be 100 times faster than 4G, this in turn will create a lot of opportunities for he online casino community. Beforehadn playing  casino games online on your data was a bt risky, because the games require fast connection, or you could lose your winnings or ruin the same for other people but now this problem is completely gone and we should expect mobile casino apps to become a huge part of the entire gambling community.
Mr Green casino payment methods
Having multiple markets to take care of have made Mr Green to deliver a quite variety of payment methods available for different countries. The list can be narrowed down to 4 categories:
Credit Cards – it's perhaps the easiest way to pay online. Feel free to use your Visa, Visa Electron, Maestro and/or MaestroCard to safely deposit into your Mr Green account.

E-wallets – the e-wallet services will allow you to use your funds for purchasing any items or services online without using your banking details. At Mr Green you'll be able to use e-wallets like Neteller, Skrill or ClickandBuy.
Paysafecard – Turn your cash into online funds! Simply find a Paysafecard authorized sales point in your city, purchase a Paysafecard voucher and use it for your online transactions at MrGreen.
Bank Transfers – One of the safest ways to use your funds online. Use your banking details, confirm your data and start playing online. It usually takes 24 hours for your documents to be confirmed. Most European banks are supported by Mr Green's platform via their local partner Trustly.
It is advisable to verify the jurisdiction you're playing from in order to comply with the legal procedures and payment methods available for your region. The payment methods selection is pretty impressive and this means that you likely wont have to gets. whole separate account in order to start playing at Mr Green. You would be surprised how offputting this is for clients these days. which is why having multiple ways to pay and take out winnings is crucial for a modern online casino.
Mr Green casino customer service
Mr Green emphasize good customer support as one of their pillars, for that reason they offer multiple ways to get in touch with them for immediate support, whether it is technical or administrative.
Players can easily make a phone call or send an email to Mr Green's customer service department from 7:00 AM until 1:00 AM CET. The fact that there are multiple ways to get in touch with people from the casino shows that they really do take their customer service seriously which is a crucial step in making a modern casino work. Since casino handles the clients money any issue that might come up must be resolved immediately. Having an efficient customer service is just one of the ways to that, beside secure payments and fast payouts.
An online chat service is also available for all players in 8 languages (English, Norwegian, Swedish, Finnish, Polish, German, Czech and Dutch). Chat is usually the prefferd method of communication for most people so when a casino has the online chat it is always a huge plus. This makes the communicationmore simple way faster and most importantly convenient.

Mr Green casino security
Mr Green uses SSL encryption and Symantec services to protect players' personal data and confidential information (payment details). They're fully licensed by the Lotteries and Gaming Authority of Malta, and follow the international regulations for avoiding money laundering.
In addition to that, they are credited by a series of independent organizations that help gamblers deal with addiction, such as GamCare, Gambling Therapy, Gamblers Anonymous and Gam-Anon. These days anonymity s a tp priority for many players and in order for the customer to feel safe and secret while playing, displaying all the tools that are ensuring their safety is actually a great move. Mr. Green seems to know that for modern clients transparency is everything and they try and deliver on their promise of authenticity and honesty. You will find all the information you could need about its security policies right on the website and you can ensure that they are indeed in cplimance with your won standards of safety.
Conclusion
Mr. Green is a great example of an online casino done right. It has a very distinct personality, the website is straightforward but not boring, the game selection is solid and payment and security methods are modern and transparent above all. While its hard to reach perfection in anything and some drawbacks are a part of the deal, still Mr Green offers a pretty well-rounded deal when it comes to its services and games.Their customer service offers multiple ways that clients can communicate with the stuff, which is a point that often gets overlooked when evaluating online casinos. When we are in a real casino, there is nothing easier than getting someone to help you, but if you're stuck with a confusing situation on a online casino the prime customer service is a must and the casino knows that. The bonuses and promotions are also pretty impressive. These promotions have become one of the pillars of making a casino great, which is why they offer this huge 4 step deposit to make your day even better. The bonus is definitely the highlight of the casino but all these other criteria are also pretty solid, making the casino one of the best on the market. If you aren't already part of the Mr Green team, why not give it a shot and score yourself a nice 4-step bonus on the way.