Rizk Casino – Game Selection, Customer Service and everything you need to know
The online casino market has been getting much bigger over these last couple of years. As access to internet is becoming more widespread, more people are looking for their favorite entertainment services online and hence the growing popularity of online gambling venues. This has proven to be a great boost for the online casino community and as the demand rises so does the supply. But this is not necessarily good for the community and here's why. As more casinos start operating on the online platforms, the easier it gets to actually create a casino and you will find that one too many casinos are offering very similar services. With so many options to choose from people often find that they are confused about their choices, they can't trust all the claims made by dozens of casinos and more often than not, most of these casinos are not all they've advertised themselves to be. This is why reviewing online casinos and giving a rundown of all the services and games you can access there is essential to filtering out the duds and creating more room for the casinos that do actually care about their customer experience. Rizk Casino is one of the standouts that has gained the love and attention of many gamblers. Here we'll try to go through every important aspect of this casino and create a comprehensive review of Rizk casino and whether or not it is worth your time and money. A review like these will help the casino industry to pay more attention to the quality aspect instead of focusing on quantity as it has done so far.
The website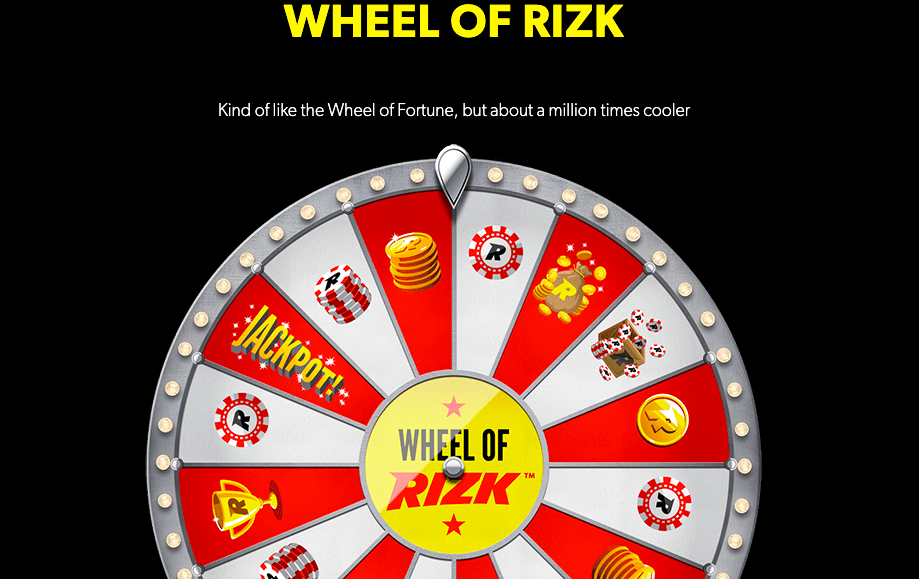 First impressions matter, and especially when we talk about the modern customer who does not have much patience for low-quality websites and confusing interfaces. This is why for every modern casino their website is their business card that people will judge and make assumptions based on that. The thing about the internet is that, since people have so many choices they are also quick to discard any offer that is anything less than ideal and the same goes for the websites. When you first enter the Rizk casino, you will find all a colorful website with fun graphics and the casino's main symbol the Captain Rizk. This is a fun way to grab customer's attention and make sure that they stick around for long enough to at least get to know their way around the website.
You can access all the information you might need, like where to register or login, and what basic services this casino offers. The main welcome bonus and the weekly promotions and fortune wheels can also be found on the main page. On the side of the website, you can find the main categories you might want to explore, like all the games, sports, Live Casino, Rizk Insider, Wheel of Rizk, and Rizk Race, all unique offers that we will discuss further in detail. The website is fun but not overwhelming. This is a great example of a website that gets to the point and lays it all out for the users to see, but they also maintain the fun image that reminds the user that after all this is a website dedicated to entertainment.
Game Selection
Rizk has one of the most impressive gaming selections in the business and definitely deserves the praise for it. The casino offers to bet on games but also offers different sports betting options for those who enjoy it. To access all the games that the website has to offer you can just click on the games button on the main page, or you can just explore a couple of examples that are already displayed on the main page of the casino. The way the casino's setup works it yo get a preview of all the Captain Rizk's favorite games, and this category is constantly being updated with the best games on the site. Then you can explore the latest releases and the feature games of the website. The site also offers daily drops & wins which you can't find all too often on other casino websites.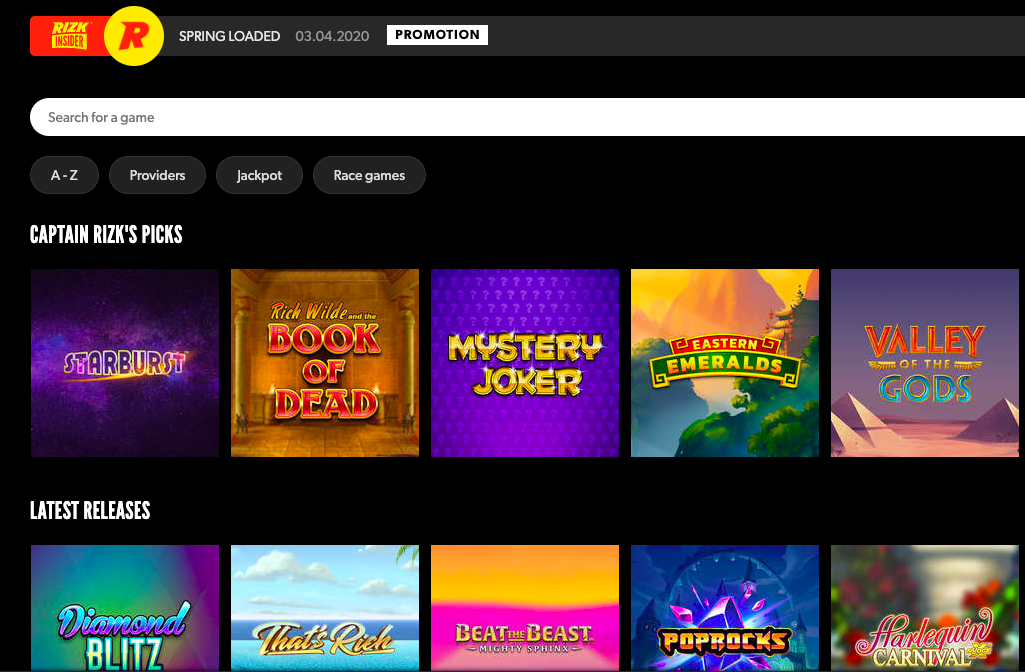 There is a separate section for games that offer high-volatility and jackpots for those who want to win big. Of course, no casino is complete without classic casino table games, which you can also find in the games section as a separate category. Not only does Rizk offer table games they also offer video poker as a separate subsection for those who enjoy this variation on a classic table game- poker. In addition to all of these games, of course, the casino also has the Slot games section which is actually the most popular on the website, since slots tend to be the most exciting and entertaining for those who love to gamble online. The games are overall nicely organized into different categories and offer the customer a chance to explore new games in a way that most other casinos don't really do.
Banking Systems
Payment methods are an important aspect when gambling online. The fast and secure payment methods are crucial for any casino that wants to retain its customers for a long period of time. This is also made possible by modern technology, allowing for these fast services with ease and convenience. When dealing with casinos banking methods it's important the thee casino free both, more traditional payment methods and then more modern platforms as well, which can actually make the transactions between the casinos and users way easier.  When making deposits you can use Mastercard Visa, Neteller, or Skrill as your payment option. In all cases, the deposit is free to make and the processing takes no time what so ever, giving you the right amount on your account instantly. When it comes to limitations, the smaller deposit you can make is $10  and the maximum is $5000. If you want to make withdrawals you can actually use all the same platforms but in addition to those, you can access Bank Wire and get your money without any free in 1-3 working days. With all other payment methods the withdrawals are fee-free and usually take 1-3 banking days when using credit deposits and if you're using e-Wallets, then, of course, the withdrawals happen instantly. The limitations are $20 for the minimum and $5000 for the maximum limit. Having multiple payment options ensures that all the users can be covered and they won't have to create additional accounts just to play at your casino, which would reduce the likelihood of them actually staying by quite a bit.
Bonuses and Promotions
At Rizk casinos bonuses never really stop coming your way. The online casino has made sure that there is always some sort of ongoing promotion to keep their customers happy and to make sure everyone gets a free chance to try their luck. When it comes to Rizk casino, they don't just offer the same boring one-time bonuses but there are entire systems in place that make sure that every week there's an opportunity for the player to score some extra spins or bonus money. You can expect Realod/Deposit bonuses that will be offered from time to time that give you a chance to score a 100% bonus, a subject to 40 times wagering requirement, and some times you will even get a 200% bonus with the wagering requirement of 45.  Periodically the casino also offers free spins to use on your favorite games, as well as free money, and these prizes are wager-free. There are separate deals when it comes to a live casino where you can get cash back on your deposits no matter if you win or lose, you can also score win-win chips which also grant you a percentage of cashback and can be claimed within 24 hours. The Wheel of Rizk is a continuous game that everyone who participates in different Rizk games gets to be a part of a loyalty program and higher you go up with the levels the better the rewards are going to be. This is why to this day, Rizk has one of the most loyal following in the gaming industry.

Customer Service
If you want to get help from the online casino staff all you have to do is press the chat button on the website and you will be directly connected to the staff member, willing to help you out in any matter. For now, this is the only method that you can use to connect with the casino, and hence you can not use email to phone numbers to address the issues. While the online chat is usually everyone's go-to method of communication, it actually could be useful to add some other methods for people to get the help they need While the quality of these services is not compromised in any way it still would have been much more coherent if there were multiple ways to contact the online casino.
Pros and Cons
Let's break this down into pros and cons lists and figure out if the positives outweigh the negative in this one.
Pros:
Great Gaming selection
Fast and secure payments
Loyalty programs
Cons
Customer Service
No Welcome Bonus
Conclusion
Despite some flaws, the Rizk casino is still one of the best online gambling destinations these days. They have a nice website, with fun graphics and that is also easy to navigate. You will find that you won't need much help with getting around and accessing whatever information you might be looking for. The Gaming selection is quite impressive and the games are organized in a way that actually encourages you to try something new. While there is no welcome bonus, the casino definitely makes up for it b recurring promotions that reward all the loyal players. The banking methods are great and cover almost any possible payment methods. The customer service, while great, could use an additional email or a phone number, but Chat can also get the job done. Overall playing at Rizk is a positive experience and you are guaranteed to have a good time.