Unibet Casino Review – Sports Betting, Live Casino, Bingo and More!

We've already discussed many online casinos and the majority of them follow the same site plan and offer somewhat similar services. This is not necessarily bad but seeing the same old set up, same old Webdesign, and the same selection of games and services can get quite boring. Currently, the gambling industry is filled with the subpar online casinos that just about pass the quality check. While offering a good selection of casino games is no joke, there is a lot more that goes into creating a good online casino, the one that delivers on all fronts and doesn't just offer mediocre services to its customers. Some might say that every casino should have one specific niche thing about them, and while that would make the job easier for the players in some ways, actually having everything gambling-related combined together is a great way to simplify the process for those who love to gamble in various ways and to have one top-notch destination where every service is great and you can be sure to get the treatment you deserve. There are a couple of main criteria that one needs to consider before labeling a casino good or bad, especially when it comes to a casino like Unibet which combines sports betting, casino, live casino, bingo, and even more. The casino offers every sort of online gambling entertainment that you might be looking for but is it enough to qualify it as a good casino? We're here to discuss just that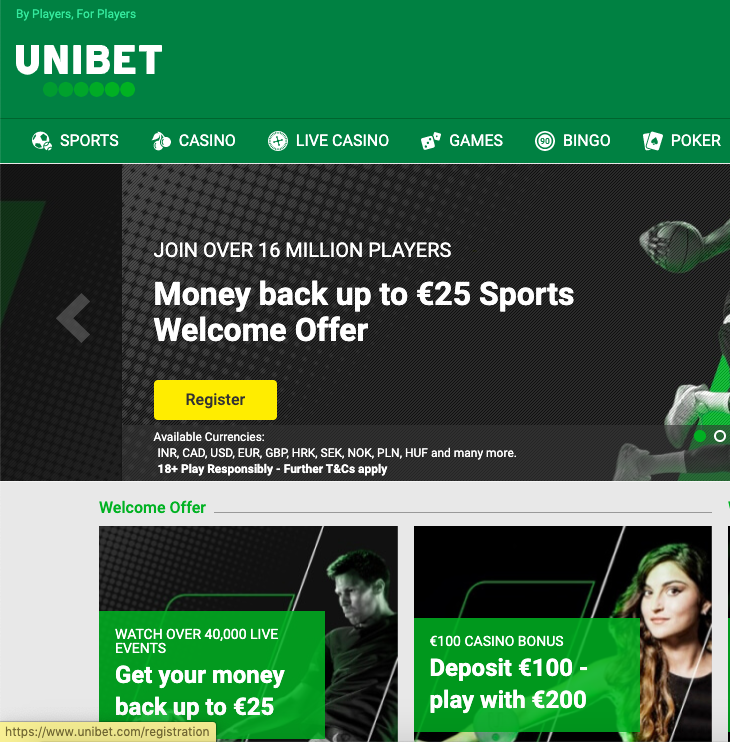 The interface
When you enter Unibet you get a very sport-oriented vibe, with footballers displayed on the home page, and the whole website is based on the colors of the football field. While the website does not necessarily feel like a casino because of its sports heavy interface, the text and the directions to get to the desired page is pretty clear either way. If you are a sportsman you will probably love this, but if you're on the site strictly for the casino games and the casino experience you might be a bit disappointed. But the main criteria one should look out for when evaluating a website based isn't necessarily about the looks. The main thing every casino website should be is easy. And this does not mean that the site has to be clean and boring but every new customer should be able to get around and find what they're looking for without any trouble. And quite frankly everyone should know the basic things and pages players will be looking for so displaying them right away and making the site easy to navigate is a must. Unibet definitely falls under this category and considering how many services they offer its no surprise that they have their categories and direction figured out. When you enter the website all the main categories are there, you will see an option to go to the sports betting page, their casino page, live casino, Bingo, and Poker. So if you have any specific type of gambling game in mind you should be able to find the right category as soon as you enter the site. Then on the right side Unibet displayed all the ongoing occasion offers, which we will discuss in more detail further down. Then you have all the best games casino is offering, along with all the basic information about how to register, where to get the app for Unibet, their partners, Help Center, and so on. Overall the website is well organized and is easy to use even if it is your first time on Unibet. So the website gets a thumbs up from us.
Gaming Services
The gaming selection is what makes a casino. Unibet has a great variety of types of gambling they offer so its nos surprize that their gaming selection in all fo these categories are also pretty impressive. When it comes to their sports betting section they offer football, Tennis, Esports, Darts, Ice Hockey, and Volleyball games. The schedules are displayed on the sports betting page and are easy to find on any given day. Virtual sports are also quite popular on the website, with the World Cup and Champions Cups being one of the most popular options for those who enjoy these types of games. You can also check out the Live score on their website whenever you want to bet or are waiting for the results.
Then comes the casino page which offers you the classic table games and casino games divided into easy categories. When you enter this page you first get the casino picks, then come all the classic casino games with many variations on roulette, blackjack, baccarat, and poker. There is also no shortage of slot games on the website and their selection is constantly being updated with the latest releases. There is a separate category for jackpots only for those who like play big and you can choose from classic jackpot games like Mega Moolah, Empire Fortune, Major Millions and so on. There are also plenty of exclusive games that you won't find anywhere else so don't forget to check them out.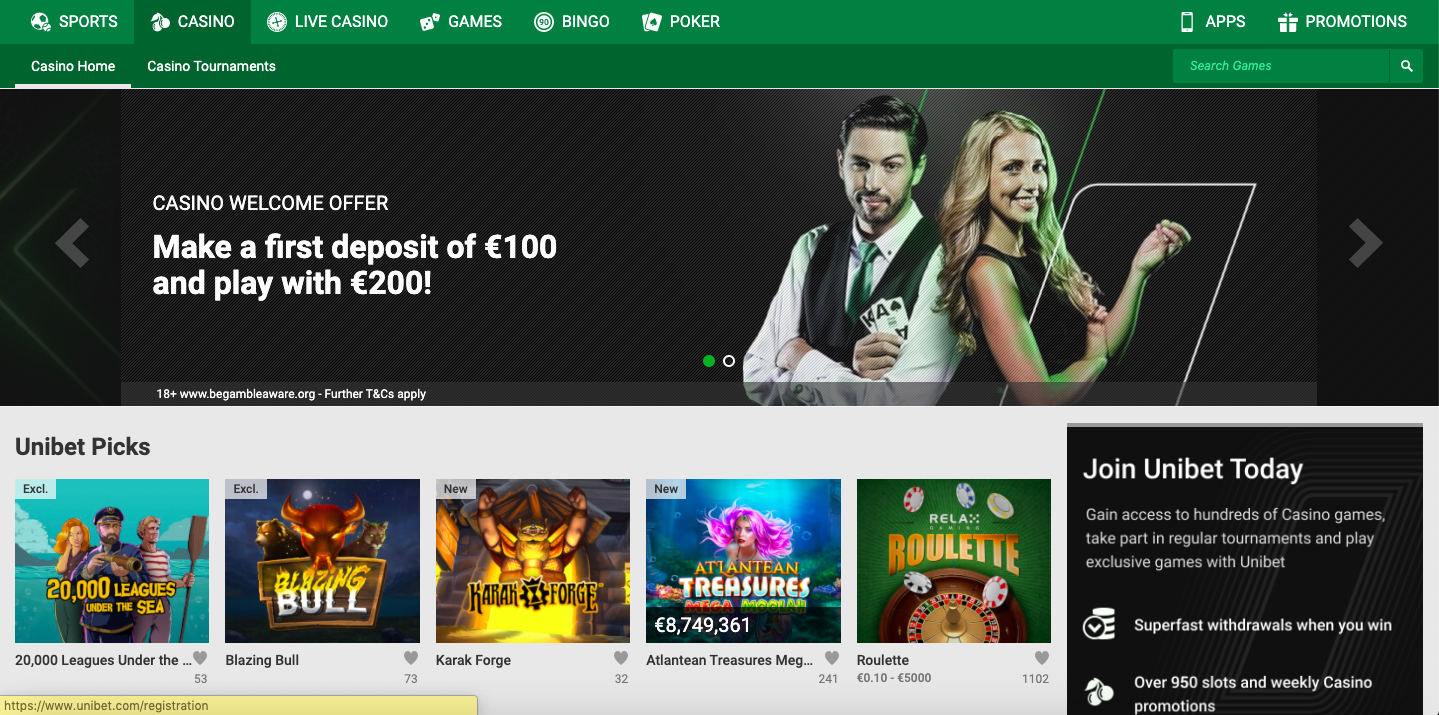 The live casino has a separate page on the site for those who prefer to have a real dealer and play with other likeminded people. There are multiple providers to choose from so you wot get bored with the same old setup any time soon. What's also different about this casino is that it offers a separate category for bingo, probably the world most widespread gambling game and poker, the most popular table games The variations on each of these games are plenty on the website and you will have many options to try out during your time at Unibet.
Banking Methods
Secure payment methods are crucial to creating a trustworthy platform and luckily, modern technology allows for just that. You can use PayPal, Mastercard, VISA, regular bank transfers Skrill and Paysafe Card. All of these are trusted payment methods that not only deliver you your wins to your account safely but in most cases that can be done within a day. If you are using an e-Wallet the money should appear into your account within hours. While when making a deposit, no matter which service you use you will see the money in your casino account almost immediately. Security is a top priority at Unibet and they make sure to let their player know that they don't cut corners around security and transparency which is a plus point for them.
Bonuses and Promotions
Bonuses and Promotions matter very much when it comes to maintaining a loyal client base as an online casino. This is why Unibet didn't skip on any bonuses when creating their recurring and one-time offers. And since the website operates a sports betting service, casino, live occasion, and bingo, they have all their separate welcome bonus packages. For when you make your account on the sports bet, you get 50% of your deposit back as a welcome gift. When you sing up for the poker section you get a welcome offer that could grant you up to 200 euros. There are also loyalty programs like refer a friend bonus where you could score as much as 250 euros per one referral. There are also big and exciting Drops and wins, amounting up to 1.5 million euros. These bonuses are not a one-time thing, except for the welcome bonus so playing at Unibet is always exciting.
Customer Service
Good customer service is also crucial to making a good online casino. If you have any questions hen dealing with Unibet there are a couple of ways you could get the answer to your question. You could go to the Unibet community for help, or look at their FAQ page. You should be able to find the answer to your question via the website's help center and in case the question is not already on there then you can count on your Unibet community to help you out.
Pros and Cons
Let's break down Unibet into pros and cons
Pros
Every gambling service in one place
Secure payment methods
Cons
No 24/7 live chat
Overly Sporty interface
Conclusion
Unibet is a casino that has many unique services. It's not that common to encounter an online casino that does sports betting, live casino, table games, slots, bingo, and jackpot all together and their game selection is definitely good in all of these categories, On the other hand, the website itself feels a bit too focused on the sporting aspect of it, which can be offputting for those who are only there to play the table games The payment methods are secure and there are a lot of options for the customer to choose from. But their customer service could definitely use improvement because there is no clear email or a chat on the website. The bonuses and promotions are recurring which is definitely a good thing and overall the website offers a nice variety, with exciting promotions so you should definitely check it out if you want to find one go-to site for all your gambling needs.