21 Casino Review – Is this online gambling destination worth your time?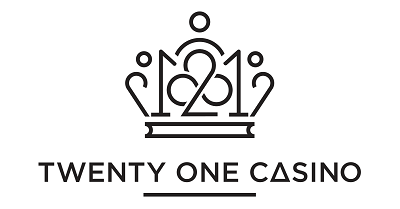 21 Casino is a real breath of fresh air when it comes to online gambling, with their alternative approach to gambling and the services that always put the customers first. But is this enough to classify 21 as a top gambling destination online? When we look at online casinos there are a couple of criteria that every single one of them needs to fulfill, and better their results better the casino. Online casinos need to have a clean and organized website, something that is surprisingly hard to come by in the online gambling community. The mistake that most casinos make is that they try to advertise all of their services and let their customers know everything there is to know about this casino within the seconds of entering this website. While one might think that this is the most efficient way to go about things, it is actually overwhelming for the players to get bombarded with so much information so suddenly. The second most important thing is, of course, the gaming selection. People are not going to stay at your casino just for having the organized setup, you also need to deliver a great set of games, with variety to suit every taste and constant updates to keep the client interested, even the ones who are loyal players at the online casino. The need for good customer service and great payment options has never been higher, which is why we also consider these two criteria to be crucial for every online casino. So without further ado, let's get into reviewing 21 Casino.
The Interface

When you first enter the 21 website, you learn everything one would need to know about this casino, and what's more impressive is done ina way that does not overwhelm the viewer. you can easily see where to register to create your account, you can see what bonuses to expect as a new player and then you can go on and explore the random selection of website's newest and most popular game down below. The web design is clean, looks high-quality ad is quite well spread out across the home page. The graphics are well done but are not over the top. Upon entering the website you will see the three main pages you can access, which is the home page, the games page, and the promotions page, all of which we will discuss in further detail down below. But overall the website is pretty impressive and it is done in a way that makes the casino stand out and immediately lets the customer know what the casino is all about, which is fun, fast services with minimal friction. The website is easy to navigate because everything you would need to access immediately is right there on the main page and since the landing page isn't cluttered, you can easily find whatever it is you might be looking for. This is a great example of a casino website done right because it strikes a nice balance between being clean and organized and being fun and exciting at the same time.
Gaming Selection at 21 Casino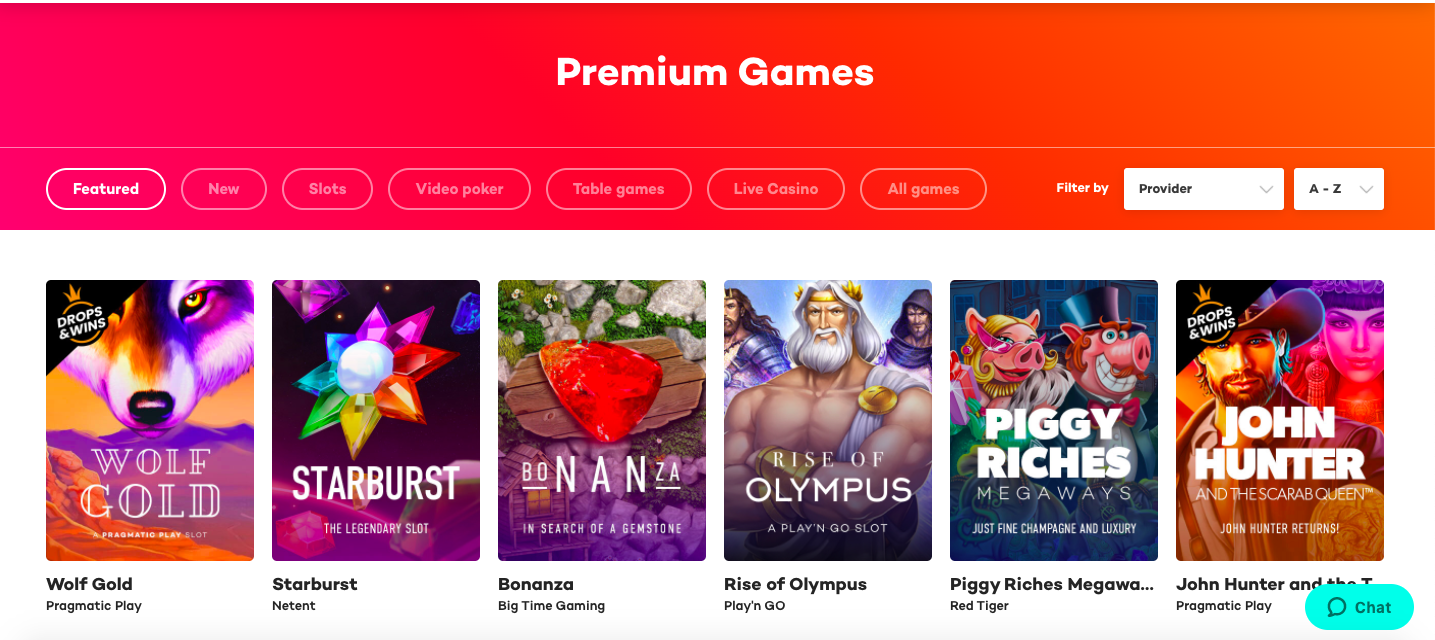 Probably the most crucial of all criteria is the gaming selection and this is one thing that can actually make or break a casino. If you have a small selection of games players will get tired and eventually stop coming around to the website to play. If you have a great selection of games but they are just not very organized, you run a risk of overwhelming the customers and pushing them away in that manner. While you can get a general overview of the games presented at this website on their main page, the separate page for games also displays many categories that you can explore on 21 Casino.  The Gaming selection categorizes the games in following selections: New games, slots, which are usually the most popular and easy to play, Table Games, which entail the classic casino card games, video poker, as its own separate category for those who enjoy this variation on online poker, and the general live casino. You also have an option to filter out games by their providers or by the alphabet.
The game selection is updated on a weekly basis, bringing you only the newest and most exciting games on the market. Some of their most popular games are Crystal Burst XXL, Pirate Kingdom, Cygnus, Hypernova Megaways, Jewejl Scarabs, Wild Frames, and much more. When it comes to Video Poker, you have many choices as well with different Multihand options. The table game selection is also impressive with many variations on Blackjack, Roulette, and Baccarat. And then, of course, you have a live occasion section where you can play with real dealers in real-time with players just like you. overall the game selection is well rounded and tailored to every taste. It's easy to locate any game you might be looking for because there are plenty of search options.
Banking Methods
Safe and secure payment methods are crucial for maintaining an online casino and keeping the players. In order to do that every casino needs a very diverse list of payment options that will cater to different crowds who like to use different payment methods. 21 casino has an impressive selection of payment methods that vary from more classic banking methods like VISA and Mastercard to newer e-Wallets that are essential for every modern customer. For those preferring to pay with e-Wallets, options like Trsutly, Skrill, Neteller, Klarna, and Interac, are available at all times. You can make deposits and withdrawals through all these payment methods and you can expect to have your wins back into your account within 24 hours. This is a great example of combining traditional payment methods with newer ones to make sure that most people will find a medium they use on the website. These days e-Wallets and generally, the digital payments are a must and can actually elevate the user experience quite drastically. This is why having diverse payment methods is a must for every online casino these days,
Bonuses and Promotions
No online casino is complete without their bonuses and promotions. For most newcomers, bonuses are a primary source for new customers and it is actually a very successful and efficient strategy. If you want to keep your players around you will have to offer them reoccurring bonuses and promotions to keep them excited and engaged with the casino. Usually the most generous of all promotions are the welcoming bonuses. At 21 you get a very generous offer that gives you $1000 in bonuses as well as 1000 free spins, definitely an offer that you won't see often in the online gaming community. In order to claim this bonus, you will just need to create an account, make your first deposit and start collecting your bonus money.

This offer comes in four steps. First, you make your deposit and get a 100% bonus match up for up to $100, plus you immediately get 900 Free Spins on Vampires vs Wolves. Then on your second deposit you get a 25% bonus up to $500, then on your third deposit, you can get a 50% match up for up to $300 and then on your fourth deposits you again get a 100% bonus match up for up to $100. While the welcome offer is crucial to attracting new customers, it's not all that this casino offers. There are multiple reoccurring bonuses that the loyal players can enjoy and it is one of the best things about its online casino. The casino offers daily prize drops and wins as well as other recurring free spins offers that can help you explore other popular slot games on the website without having to spend any of your own money. The bonuses on this particular online casino are quite impressive and are definitely worth checking out, especially if you aren't yet registered on the website.
Customer Service
These days customer service is crucial for any online casino, and if your service is not up to a certain standard, you risk losing the majority of your players. 21 Casino has a live support chat that is located on the bottom right corner of the website and you can message the company any time you want and you can get the answers to any question you might have within a day. You can also use their FAQ section to find the answers to your questions, because usually, someone else would have had the same problem as you. This also saves a lot of time on both ends and makes the problem solving more efficient. But if you can not find your question in the FAQ section, you can then resort to online chat support, where the friendly staff will help you out with any concern you might have. The good thing about this live chat is that it works 24/7 and you can address them any time during the day.
Pros and Cons
Now that we're discussed this casino in great detail, let's break it down into pros and cons. to make the assessment easier.
Pros
Great Gaming Selection
Clean and Organize Website
Great Payment Options
Cons
No Email for the Customer Service
Conclusion
These days the online casino market is oversaturated and finding the right one can be an actual challenge. 21 Casino is probably one of the best choices for the online casino since it checks all the main boxes and is sure to provide you with the best customer experience. The client support systems work well, the payment options and fast and safe, and games are constantly being updated for your enjoyment. The website is clean but still engaging, with fun graphics and exciting colors. The site is easy to navigate, meaning that even the new players can instantly understand where to go, what to expect, and how to access their favorite games. All around this is a great online casino, that does not disappoint one bit. It has one of the best providers, with only the most beloved names in the industry. The website promotes responsible gambling and cares about the well-being of the players which is refreshing and endearing. The casino is definitely worth your time if you are looking for an exciting and customer-oriented casino where you can always find something new to play and where you can be sure that the next exciting bonus is right around the corner.