Remember the days when a casino was simply a place where you walked in and played on coinslots, Roulette wheels and other great games?
You can still do that of course – indeed the sector is booming.
But there's been a major revolution in gaming since, in case you haven't noticed!
Actually it's been a 2-phase revolution thus far.
First of all, the rapid growth of the Internet in the 1990s led to the establishment of the first online casinos, alongside other types of eCommerce.
The next stage followed about 10 years later with the smartphone revolution, and it is that which we are interested in here.
Growth of mobile casino gambling
The beginnings of the mobile phone casino can be traced back to the emergence of the Blackberry smartphone in the early 2000s.
The first simple mobile casino games date from this time and were simple table games like Roulette, but, and this is significant, they could be played for real money.
From around 2007 the smartphone was truly here to stay with the launch of the iPhone, with Android phones and the Windows phone following closely after.
At the same time, the tablet market truly took off – Microsoft and other companies had tinkered with tablet-type computers in the early 2000s but again it was Apple, with the iPad launched in 2010, who set the benchmark, again being followed by rival devices from companies such as Samsung.
Inevitably, then, it was only a matter of time until slots appeared for the casino on mobile, and indeed the first games appeared in around 2011.
Since that time, the industry has gone from strength to strength, and most new online slots from developers like NetEnt (with their 'Touch' range) are available to smartphone and tablets alike, as well as to the desktop.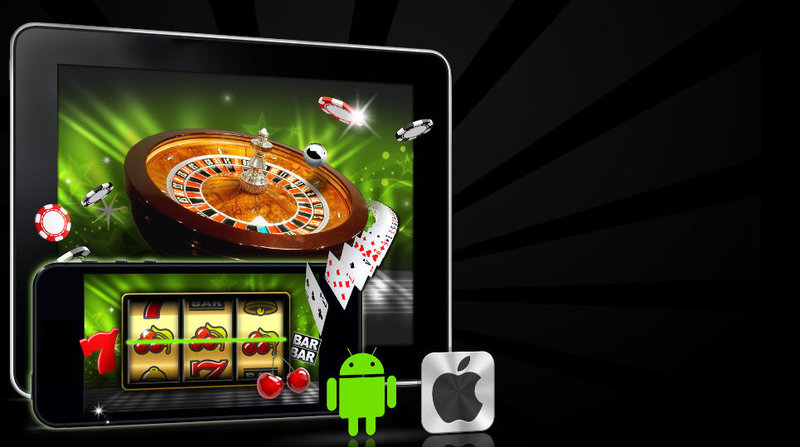 Mobile casino games
There is no quality difference between slots, table games and other games for the mobile, and their big brothers on the desktop.
If there were, what would be the point in playing them?
True, if you're playing on a phone in particular, the screen is pretty small relative to the desktop version, but it still has all the functionality.
Mobile casinos are not apps – you don't hve to download anything, but they are tailor made for your phone or tablet, usually written in HTML5.
Even more importantly, the winnings are the same as on the full scale desktop casino.
Indeed people have recently taken home huge wins (we're talking in the millions – at the time of writing this piece a player in Sweden had just won himself 2.5m playing Mega Fortune from NetEnt on the mobile! – just think about it, a few spins of the reels on the commute home, and you may not even need to make that commute ever again!
As noted it's not just slots which are mobile-enabled, but all the great table games like BlackJack and Baccarat too, as well as more off-the-wall things like Bingo and virtual Scratchcards, so most players can find something to suit their needs on the mobile.
Best mobile casinos
Of course the development in the mobile gaming world has been uneven. Some gambling sites have a fantastic selection of games and services for the mobile, whereas some others don't have a mobile casino at all.
It has to be said that in general the range of games available will not be quite as broad as for the desktop, even on the best mobile casino.
That is to be expected given the relative newness of mobile gaming – it's hard to go back and transfer all the legacy games on to mobile platforms – but that will change over time and there will be gradual convergence in the size and quality of game selections.
The ideal mobile casino will carry products like NetEnt's Touch range of games, as well as mobile games from cutting edge developers like Yggdrasil.
But there are other important dimensions as well, which are as follows.
Mobile casino bonuses
Any good site will have these, so they're worth searching for.
In short, a mobile casino bonus is offered by some gambling sites simply for signing up.
The bonus can take several different forms, one of which is Free Spins, which we'll look at below.
Most common is the Welcome Bonus which will usually be 'Free Money' to match your deposit.
With this type of mobile casino free bonus, if you deposit, say, €100 they will match it, usually 100%, so they'd give you another €100 to game with on the mobile.
Then there are Reload Bonuses, which operate on the same principle but are for existing players making further deposits and are typically 50% or even 100% of the deposit, and other promos when new games get launched, competitions, seasonal bonuses for instance at Christmas, and much more.
One interesting sub-group of mobile bonuses is the mobile casino no deposit.
This is as its name would suggest, a bonus without having to make a deposit – you simply sign up and they'll give you Free Money! Or…
Mobile casino Free Spins
Mobile casino Free Spins are an additional type of bonus which involve giving fee 'goes' on any given slot.
These can be for highly popular games, and are also used as a way of promoting newly-launched games, and can number anything from 5 to 100 or even 250 Free Spins!
What's more is any winnings you make are yours to keep. So it's a way of winning money for free as well as getting to try out a new game for free.
Watch this space
As noted above, casino mobile is a growing area, and there will be plenty more new mobile casinos in the near future.
How do you keep tabs on what's going on?
A good way is to bookmark this page and check regularly all of our news, reviews and updates, any pointers towards any no deposit mobile casino, Welcome Bonuses, Reload Bonuses, Free Spins, new games, and indeed anything connected with online casino mobile, and the world of gaming as a whole!